Bucktown Community Organization opens 2013 with a large crowd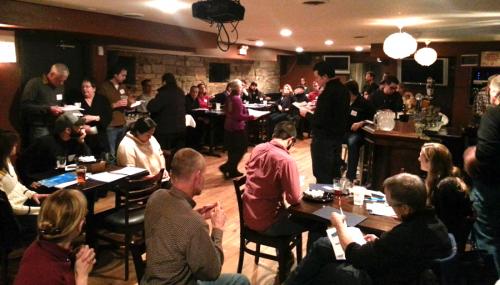 Jammed with neighbors, Lottie's Pub basement, 1925 W. Cortland, was home to the Bucktown Community Organization's (BCO) first 2013 general membership meeting Tuesday night, Jan. 15.
This reporter counted 53 people in the room. Multiple speakers delivered messages of real estate trends and other neighborhood information.
Current BCO President Steve Jensen introduced Eve Kronen and Kevin Sullivan from Coldwell Banker Real Estate. Eve brought up several emerging trends in both the single family and condo markets and had some advice and warnings for prospective buyers.
The second speaker was John Paige, a resident and commissioner for the Special Service Area #33. John spoke about what the SSA is, how they tax residents and what they do with that money. He mentioned many highlights of the accomplishments of the Chamber and the SSA over the last five years and asked people to get involved.
President Jensen mentioned a few upcoming BCO initiatives such as their annual Tree and Garden Walk, which draws thousands into the community each summer. He said that volunteers and board members are needed in order to get things accomplished each year.
The meeting adjourned after about an hour and ten minutes and many of the residents that I interviewed were pleased with the content and the turnout. Beth from Hoyne Ave. inquired about the next meeting while Tom from Marshfield Ave. was asking what he could do to help the group out.
Related:
Crime Stats By District
Columnists