Community Meeting: North Branch development will have impact on both sides of River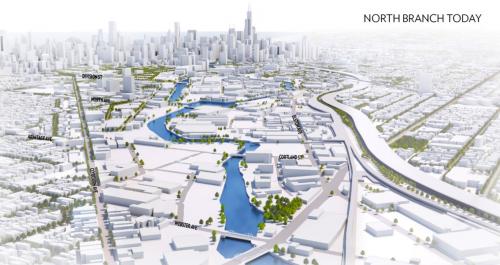 With quality of life at stake for residents, businesses and organizations on both sides of the River, a Community Meeting for the North Branch Park + Preserve is being held Mon., Apr. 23, at the Little Sisters of the Poor, 2325 N. Lakewood Ave., from 6 to 7:30 p.m. to urge Mayor Emanuel to adopt a vision for a 24-acre park. 
The development is expected to be a 50,000 person district [almost an entire new ward] with 18 million square feet of mixed use development along the North Branch of the Chicago River.
"The redevelopment promises to be one of the largest the city's ever seen. When done, it will feel like a city within a city — hotels, apartment towers, stores and tech office space sprouting on 760 riverfront acres," says a Chicago Tribune editorial. 
Plans put forth by the Mayor and Sterling Bay, the owners and developers of much of the land along the River, along with Brian Hopkins, 2nd Ward Alderman, use a loosely defined framework plan and, repeatedly state that their plan has 60 acres of open space. However, that space is to occur as scattered patches of green. They are to be ball fields, tot lots and bike paths sprinkled here and there on the 3.7-mile-long tract.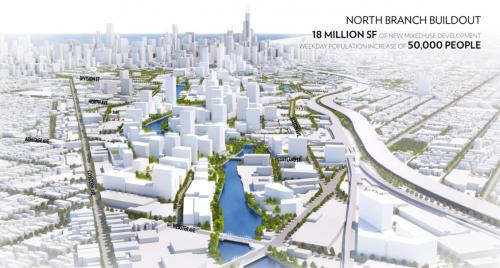 However, there have been no specific plans provided, except for descriptions provided during the Framework Plans. 
Alderman, Michele Smith, 43rd Ward, and Scott Waguespack, 32nd Ward, and many community organizations, design and environmental professionals as well as sports and recreational groups have a different plan. Their plan calls for a 24-acre park along the North Branch with baseball fields, a boat launch, a bike path and nature trail, among other amenities. 
They point out that without a large scale public park, access to the Chicago River will likely be cutoff by dense high-rise buildings and private facilities. 
According to a Chicago Sun-Times editorial encouraging the City to "Grab the chance" to create a park, they quote Hopkins, "costs — for transit and road improvements as well as recreation — need to be controlled. (The North Branch Park coalition puts the price tag for the park — including environmental cleanup, but not the cost to buy the land from its current owner — at about $40 million.)
With no comprehensive plans in print that have been put forward, community concerns are running high. Even a group of community groups called the Lincoln Yards Community Advisory Committee (CAC), put together by Hopkins, are asking for details. 
In a letter to the Alderman, CAC asks that within one week after the development team gives their first public community presentation, expected in May, that the CAC meet with Sterling Bay at which they can provide first impressions and constructive feedback to the developer. 
Within one week of the CAC and Sterling Bay meeting, they request that Sterling Bay meet with each neighborhood organization to discuss neighborhood specific concerns. Then within the next two weeks, Sterling Bay is to present the updated presentation based upon what they heard at the community meeting and individual community meetings in a second public meeting. 
Why should you care?
While this may seem to be an issue that doesn't matter because it does not directly affect anyone except property owners on the east side of the River, it actually will affect everyone:
those who have an interest or need to shop, eat, enjoy entertainment, access services, work or live anywhere east of the River from Fullerton down to Kinzie. 
Anyone using City Services such as Transportation, Schools, Parks and more on BOTH sides of the River.
Remember, the meeting is Mon., Apr. 23, at the Little Sisters of the Poor, 2325 N. Lakewood Ave., from 6 to 7:30 p.m.
Image source: Smith + Gill Architects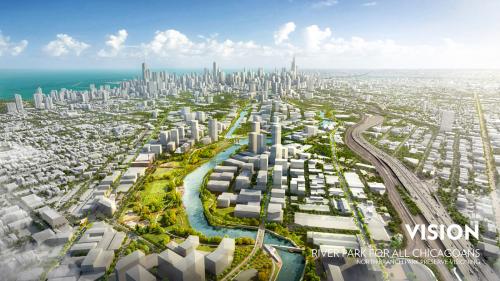 Related:
Crime Stats By District
Columnists