Fioretti aids in Polish Triangle's Clean and Green actions
Alderman Bob Fioretti, 2nd Ward, became hero of the day in the Polish Triangle amid the Clean and Green actions at Milwaukee and Ashland Avenues where they meet Division St. on Sat., Apr. 26.
After attempts to rid the Triangle of unused, unsightly newspaper stands for the last two years, Fioretti got some moved and another removed.
Students from Holy Trinity High School, students and parents from the Near North Montessori School, members of the Polish Triangle Coalition and others made a big difference in the appearance of the space. Even Phillip Vucinic, last year's Cevapcici vendor came to help clean up.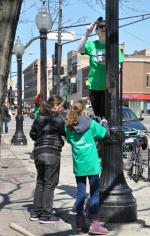 "It was a great success with almost 30 volunteers scraping, painting, sweeping, mulching and removing tags and graffiti today in the Polish Triangle," said Kapra Fleming on behalf of the Polish Triangle Coalition (PTC) who sponsored the cleanup. "We got to meet our new Alderman and had a great lunch at the Montessori School."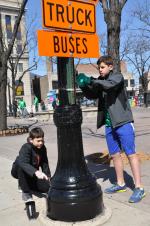 "Students from the Near North Montesorri School will be doing a repeat visit to the Triangle to complete the painting of the light posts," says Mieko Yoshida, from the school, who is also a PTC member.
With Tuesdays at the Triangle scheduled to begin for the second year on May 20, everyone is looking forward to a summer of fun events each week in a spruced up area. 
 *Photo courtesy of Kapra Fleming
Related:
Crime Stats By District
Columnists