Get in the HALLOWEEEEENNN spirit…visit a scarecrow and learn about working together!
Somehow not even a blue moon helps overcome the fact that Halloween just isn't the same kind of fun this year.
HOWEVER, there is a way to be in the "spirit." Just walk around the neighborhood and visit 50 of the 73 Scarecrows created at the Scarecrow Extravaganza sponsored by the Wicker Park Committee and the Wicker Park Advisory Council in collaboration with the Chicago Park District! 
Socially distanced, various sized groups created some wonderful new area residents that have been hanging around the 1st, 2nd and 32nd Wards since the event on Oct. 10.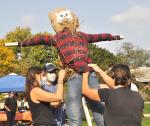 Here is the map for you to visit the 50 scarecrows. If you cannot see them in person, their photos are in a photo album. 
The photos with this story will hopefully let you see the fun you missed or enjoyed, if you participated. Things that can't be photographed easily were heartwarming to watch too. They included the sheer joy people were having with each other.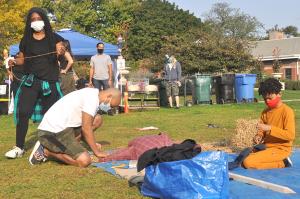 People learning new skills and remembering some they knew! For example, how do you get a shirt on a wooden cross that is wider then the shirt? Did you know that fluffing the hay before stuffing it works way better than not fluffing!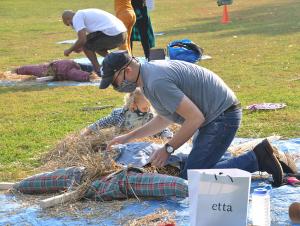 With cell phones set aside, for the most part, family members were talking with each other! 
Some people had given much thought to what they wanted the "new member of their family" to look like and had brought clothes, a head and various other items that made their creation unique. 
Others had great fun experiencing creation on demand! 
The photos here are but a few wonderful images of people of all ages having great fun being out in the Park with others. 
Having this re-do of the original Scarecrow Extravaganza, started by Rebecca Wright and Andrew Wozniak in 2008 with the Wicker Park Committee, be able to meet the standards of the COVID-19 social distancing, made the event all the sweeter.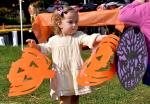 Congratulations to Doug Wood, Leah Root, Denise Browning, Jim Angrabright, Joe Vallee, Ted Varndell, Susan Fontana, Kyle Sneed and Mary Tamminga for making it possible to have 73 scarecrows created by 73 groups of people in eight hours. 
Thanks to all who participated and I hope you put the event on your calendar for next year!
Related:
Crime Stats By District
Columnists