Infrastructure and Development: Waguespack talks at GGNA meeting
Infrastructure and development were the primary topics of the Greater Goethe Neighborhood Association's (GGNA) February meeting with 32nd Ward Alderman Scott Waguespack in Haas Park, 2402 N. Washtenaw Ave. 
As Waguespack reviewed some projects, he explained that the $1.3 million given to each alderman this year is coming from sales tax revenue rather than bond monies. That, in fact, saves interest money that the city would have to pay on the bonds. However despite promising to stop bad borrowing practices that push payments down the road for taxpayers, Emanuel continues scoop-and-toss borrowing, as pointed out in a January Chicago Tribune story.
Note that in the in an $8 billion budget, the total for menu money is less than $70 million, which is supposed to be spent on roads and lights. Instead it needs to be spent on far more. Schools, parks and now cultural affairs reach out for these dollars.
While $1.3 may sound like a lot of money per ward, the needs far exceed that amount of money. This year each ward must pay $10,000 to Cultural Affairs for artwork, according to Waguespack. It is unknown whether aldermen will have any say in the expenditure of the $10,000.
To put costs into perspective, redoing an alley could cost upwards of $300,000 while regular street repairs could cost around $50,000 per street. 
Those numbers explain why Waguespack and his staff attempt to schedule such things as water main replacement before repaving a street. Without scheduling, money could be wasted if repaving precedes digging, which would require a second repaving. 
Western Avenue Corridor
Stretching from Logan Blvd. north, beyond the former flyover bridge, to Roscoe, the repairs should be completed by late summer, early fall. During the tear-down, it was discovered that the structure was more deteriorated than originally believed.  
"It looked as though it was made of brittle cardboard. A tap of the crane had the material crumbled to dust," said Waguespack. Dedicated in 1961, it was by the former amusement park called Riverview.
Removing the overpass is resulting in more development around Belmont and Western and is making passage for Lane Tech students safer. 
At the Logan and Western intersection, the area is shared with the 1st Ward. "When we're in an area that we share with another aldermen, we generally both give CDOT (Chicago Department of Transportation) our thoughts about the project and ask them to come up with solutions. I literally have about a 60 by 6 foot strip at that intersection." 
"What are they doing about lighting there," asked Vicky Schmidt. He explained that rather than use menu monies, he wants to wait for the city's LED light project or to use TIF (Tax Increment Financing) money. Though for quicker solutions, he has been suggesting the use of things like new types of paint used to lighten up areas. 
Other underpasses including Fullerton, Armitage and North are other locations for the LED lighting. Safety of those spaces is a concern that also includes cleaning and fencing off space as well as addressing the issue of homelessness. "We are working to deal with all those factors," said Waguespack. 
Development
On the issue of development, the discussion went from specific projects to philosophy of density.
Waguespack handed out a sheet that was a reminder about construction site requirements. This lists the contractor regulations and the hours that they are permitted to work.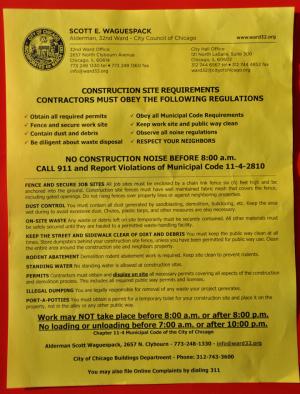 Several residents were interested in the availability of a grocery store along Milwaukee from Western to Logan. At this point, the walking distance is too great they explained. 
A Jewel Food Store appears to be the grocery chain going into space in the new building go up on the former Mega Mall site, according to Waguespack. He explained that they are into very specific details of the site's build-out, thus it appears that they will be going into that location. 
That site was used as a bigger discussion about density. Waguespack indicated that his philosophy is different than some other alderman. "I have gone for moderation in the 32nd Ward and you will see that along Milwaukee Avenue. For example, we drove the Mega Mall from what could have been over 300 units, as-of-right zoning, down to 220 units." 
He pointed out that his predecessor was the biggest spot-zoner in the city. "The Ward was a mess. So I started by going to about 14 different community organizations to see if we could find agreement on process and vision. That resulted in a zoning and development guidelines and an accompanying checklist. 
Concerns about the future
Frustrated residents who moved to the area several years ago are concerned about gentrification and wanted to know what they can do to not be pushed out. 
Waguespack pointed out that growth is good and you can't stop gentrification. But planning can help it not be so rapid, he pointed out. However, in Chicago there is no citywide planning. It is all market driven. 
One resident pointed out that there are very few units in the new twin tower project at California and Milwaukee that appear to be rented. Then she asked if there are not already too many rental units on the market. Many expressed concern over the potential of projects failing and end up being a blight on the neighborhood. 
Waguespack said that he has spoken with the Chicagoland Apartment Association. "While the market has tightened, one would expect at least a temporary dip in prices but that has not happened as yet. Interest rates are another factor for developers. So far, that has not affected them."
For the moment, everyone is hoping that projects do not fail.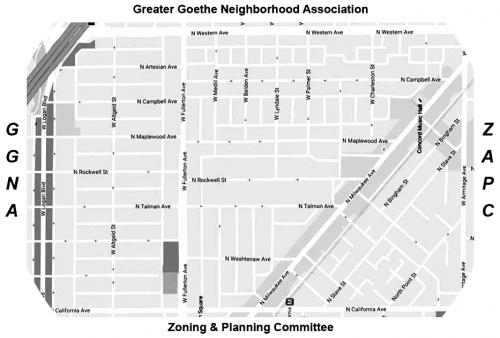 Related:
Crime Stats By District
Columnists