Large Community Safety Walk honors Aristeo 'Pascual' Soriano, gunned down in West Town
"With less than 24-hour notice, we had an amazing turnout,' says Lauren Weber, about the West Town Public Safety Committee Walk Friday night in honor of Aristeo 'Pascual' Soriano, gunned down on Huron Wednesday. 
A baker at D'Amato's bakery, Soriano, 49, walked nightly from his overnight shift on Grand Ave. to his home in the 700 block of N. Throop St. for 20 years. During those years, along with his wife Amelia, they raised four children and sent money to his parents in Mexico. 
After finishing his shift Wednesday morning, on his way home just before 2:30 a.m., he was stopping by a friend's home in the 1300 block of W. Huron St. According to the police report, he was approached by an unknown Black male who produced a weapon and fired at him. None of his possessions appeared to be missing.
Soriano was taken to Northwestern Hospital where he was pronounced dead at 3:08 a.m. Police say there is no known gang affiliation. The coroner's report indicates that he was shot in the back.
A $1000 reward for information is being offered by Andrew Holmes, the crisis responder.
A GoFundMe page has been set up. According to WBBM Chicago, "They want to bury him in Mexico and have him close to his mother and father." He has not seen them in 20 years.  
The Walk
"Originally we were going to have a walk in two weeks and then this happened," said Lauren Weber, Neighborhood Outreach Committee Chair of the West Town Public Safety Community, who coordinated the walk in collaboration with Kim Shepherd and the support of 1st Ward Alderman Proco "Joe" Moreno. 
Formed after a community meeting in February, the group plans to have educational and other events. Saying that one of the committee's members is a Guardian Angel, Weber explained that they will be having training for neighborhood patrols. As much as we want the police to patrol our neighborhoods, they can't be everywhere so we want to be able to do what we can." 
Residents of the West Town  area who want to be part of these safety efforts are encouraged to sign up for their Facebook page. It is a closed group because they learned that gang members were on the page and neighbors did not feel that they could speak freely. To register, one must answer three questions. 
"We did our own patrolling," said Tootsie Coozo who grew up in the neighborhood and said that everyone knew each other. "If one kid did something wrong, his parents would know because a neighbor knocked on the door and told them." 
Speaking of a time when people sat outside on their porches and talked to each other, another neighbor said, "Now everybody stays inside clicking on their computer." 
With TV film crews following the walkers and police cars with blue lights flashing caught the attention of several residents who watched people of all ages talking to each other as they walked along Huron, Noble and Erie, stopping at the scene of the crime for a moment of silence.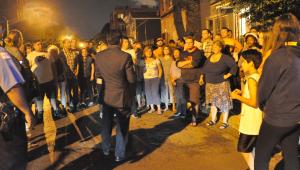 Before dispersing, Jay Ramirez, on behalf of the 1st Ward Alderman Moreno thanked the crowd for participating followed by CAPS Officer Crespo, 12th District. 
"I appreciate your solidarity. it is a tragic event that we are all here for tonight. It is great that there we are here in unity but we need to maintain this unity. It should not just be when something horrible happens.
"To prevent violence from happening, the police department has five monthly [Beat 1215] meetings at 1615 W. Chicago Ave.in the library building. The meetings are a time to get together to unit and share critical information about what is taking place.  We discuss crime statistics, what to keep an a look out for, how to protect each other...set up block clubs, softball leagues and have positive loitering events. 
Captain Philip Kwasinski, Acting Commander, 12th District, explained, "These are community meetings. We are there, but they really are your meetings. We could not do as good a job as we do, without your input and help." 
Soriano Family
As neighbors and police continued conversations a young woman, dressed in black moved into the crowd. It was Magaly Soriano, the victim's youngest child. She had just returned from his wake. 
Wiping away tears from time to time, she spoke about the tragedy and her father. At 17, she has two more years in high school and will no longer have her dad to "take care of" his only daughter.
*Photo from GoFundMe Page
Related:
Crime Stats By District
Columnists