Liquor moratorium, digital signs, school closing, sheriff takeover of 13th District station on East Village agenda
Both the East Village Association's (EVA) monthly agenda and the space at the Happy Village, 1059 N. Wolcott, were packed Monday night, Mar. 4. Liquor moratorium, digital signs, school closing, sheriff's division taking over the former 13th Chicago Police Station and elections were the key topics. 
Liquor Licenses and Moratorium
Liquor licenses are hot topics in many neighborhoods. That is particularly true in the East Village area. A liquor moratorium along Ashland Ave. between Division St. and August Blvd., which has been in place for more than 10 years, has been a focus for EVA. 
Maher Farhan, owner of the Garden Gourmet Market (GGM), at 1130 N. Ashland, went to Alderman Proco "Joe" Moreno with a request for a Packaged Goods license shortly after he opened his store about a year ago. The Alderman, at the time, told him to first concentrate on establishing his business. 
GGM's primary sales are both organic and conventional produce but they have many other items urban shoppers are looking for close to home. That includes antibiotic-free range chicken, ground beef, steaks, dried fruits and nuts in bulk, grocery items like pasta, oils and sauces.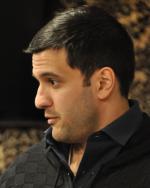 While they have a selection of beverages, such as Intelligentsia, Metropolis and Bow Truss coffees, as well as special sodas, their customers are asking for craft beers and wines to go with their cheeses, breads and other offerings. 
Since there is a moratorium for liquor licenses along that street, it would mean that the Alderman would have to raise the moratorium for the entire strip. That action was not favored by several residents, yet many felt those kind of sales might be a good addition for a local business. 
Working together, EVA and Moreno have been devising a way to test a new approach to liquor licensing that would provide some control by the community. For some time they have been interested in changing legislation to have more flexibility for liquor licensing which would give residents an opportunity to prevent certain types of products being sold under a liquor license while providing customers and businesses having more opportunities. Staying within the current liquor license laws, they have constructed a legally binding document (a Plan of Operation) that restricts the licensee to such things as:
hours of operations between 8 a.m. and 10 p.m., 7 days a week
sales personnel required to undergo training with their certifications displayed to customers
liquor sales would be of craft beers and wine only with restrictions on the type of both
total sales of liquor no more than 25% of gross sales
reviews of sales reports from a point-of-purchase system by the liquor Commission
cleanliness
attendance at CAPS Beat meetings 
The Plan of Operation is a type of document used by the City when a business is in trouble with the community and city (as in the Deleterious/Public Nuisance Impact Ordinance). It is probably the first time that it is being used in a pro-active manner, explained Moreno. " If the licensee violates the agreement, he would be subject to fines and the possibility of losing his liquor license. The Plan would be attached to the liquor license." Thus, if the license holder sold the license, the agreement would go with it.
Implementation this plan, which has been deemed to be workable by the Liquor Commission, will require lifting the moratorium on that stretch of Ashland. In turn, Moreno agreed in writing to a list of 6 actions:
All parcels in the Ashland moratorium strip that would be eligible for a packaged or tavern license will be down-zoned.
A written agreement to oppose any new package liquor or tavern licenses in the Ashland moratorium area. A written agreement to oppose upzones in the Ashland moratorium area that would allow package liquor sales and tavern licenses.
A written agreement to oppose lifting any existing moratorium in the East Village Association territory until the end of the current aldermanic term.
A written agreement to consult with EVA and hold a public meeting before lifting any liquor moratoriums in the East Village Association territory in his current aldermanic term. Consult means advise EVA of such requests within 30 days of receiving the request and meet with the Board and/or general membership of EVA before introducing legislation to lift the moratorium.
A written agreement to consult with East Village Association where PPAs are sought in conjunction with any alcohol sales within two blocks of the East Village Association territory.
A written agreement to reinstate the Ashland moratorium 1 year (earliest possible date) after lifting the moratorium. 
At the meeting Moreno indicated that currently there are approximately 20 moratoriums in place between Grand Ave. and Division St., Damen and Ashland Aves. Several people at the meeting were very interested in having a legislative change. It was pointed out that this is not just a Chicago issue but also a Springfield issues because liquor licensing also has State component in them. 
There was a long discussion about licensing and the agreement, during which many residents feel this isn't totally fair and equitable because it favors one business. On the other hand, the hope this is that a model could take licensing to another level.
The vote in favor of the proposition, lifting the moratorium pursuant to the conditions in the handout (Plan of Operation), and the alderman's agreement for new the vote was 22 to 5.
Sheriff's Processing Office
With about 75 officers in-and-out of the former 13th Police Station the Cook County Sheriffs Central Warrants Unit should be moving into their new address, 927 N. Wood, in the not-too-distant future.
Electric Digital Signs 
While the new digital signs, close to 10 feet square, in the neighborhoods and buildings wrapped in vinyl are a visual assault on everyone, people were unclear as to what can be done about them. It was suggested that this proliferation is due to the City's need for extra revenue. 
At this time, there appears to be little that anyone can do about this new plague.
According to Raymond Valadez, Alderman Moreno's Chief of Staff, there is a hole in the regulations about these type of signs. Moreno is working on ordinance wording that would seal up that hole by requiring all signs greater than 25 feet square would be required to obtain aldermanic approval.
Furthermore, it does not appear that there is much of a revenue stream to the City in this tiered product (building owner, leasee, advertiser and city permits and fees). It would be some cash flow, however. It is believed that City revenues would come from inspection, façade, installation with the largest amount coming from tax on ad sales. 
Off-premise signs (signs not advertising the building's business/es) are not allowed in Landmark Districts. Beyond that, currently there is no legislation about them. Someone suggested going after advertisers to get them to pull their ads, thereby cutting off the revenue stream for the sign owners. 
A member of the Local First Chicago Board, Peter Locke said, "If anyone thinks this is a positive financial gain for the City, I think they are only looking at this from a short term perspective. 
"While I haven't seen any specific ads go up on these boards as yet, my belief is that you are going to see Target, Wal-Mart and Subway franchises on those boards. The only things those do is to give the City short term revenue. Long term it subtracts wealth out of our communities. So I don't want anyone leaving this meeting thinking that this is a good economic revenue stream.
"We don't need short term, we need long term economic development."
Attendees were urged to write the Mayor, aldermen and anyone else one can find about putting restrictions on the signs.
EVA Board Elections
The new Eva Board was elected with familiar faces back in their same positions. The Officers are: President Neal McKnight, Vice-President Peter Locke, Treasurer KK Goh and Secretary Meghan Delong Quinn. 
Peabody School on CPS closure list
Peabody School, 1444 W Augusta Blvd. is on the Chicago Public Schools (CPS) list for closing. Martin Ritter, who taught social studies for 8 years in Marshall High School and is now the organizer for the Chicago Teachers Union, explained that CPS is looking to close 129 schools. "They can't close crack houses but they can close public schools, mental health clinics, hospitals and police stations," said Ritter. 
"It is really shameful. There is plenty of money in the CPS budget. Closing schools will cost them more than they think. The Pew Charitable Trust study states that it takes between $500-800,000 per school to close it. 
"Closing local elementary schools is very detrimental on a community," stated Ritter. 
Collectively that wouldn't put a dent in their deficit. Now they are putting the CPS 125 S. Clark building up for sale.
An 18-year veteran teacher from Peabody, Debbi Ratulowski explained, "CPS will only save 1% of their operating budget by closing these 129 schools. What they are doing is trying to privatize a neighborhood resource, as they have been doing with O'Hare and Midway airports and parking meters." 
Ratulowski a 1st grade, first-year teacher Rhea Heggaton explained that the school has a history of involvement of multiple generations. They then explained that the school programming goes beyond CPS curriculum. 
The many accomplishments they have achieved at the school include:
Though they are not a theater school, Peabody was the only Illinois school in 100 schools from across the country who received a Macy's grant for doing a production of "Yes Virginia, there is a Santa Claus," the musical
The only CPS non-gifted school that was selected for the Future City Project in which they placed 3rd place of 6
Entered in the Science Fair
Entered in the History Fair
Received tutoring through Northern Trust
Junior Achievement
Suzuki music 
"We were a Level 1 school beginning in 2009 and on track with the No child left behind program," explained Ratulowski, "until last year." 
"CPS required us to throw out our $100,000 textbook series for math, which was only one-year-old and reading, which was 2-years-old. Instead, they wanted us to use technology. Teach using the internet…because everything on the internet is true! 
"Peabody is considered to be 'under-utilized.' They calculate based on 36 students per class room. We have about 21.6% special ed students in the school. Federal law states that you can only have 8 children in each of those classrooms, unless you add an aide. Our total enrollment is 263. CPS says we should have 500 students." 
"I have 20 students," says Heggaton. "The class is made up of 2/3 bilingual students, 2 special ed and a few special intervention, who may become special ed. I am constantly re-evaluating and changing what I am doing with each student." 
When asked what CPS is looking for, Ratulowski said, "We are not sure what they are looking for or what they want." 
"What you can do," explained Ritter. "Have meetings like this. Talk with everyone, working toward a political goal and call every elected official. Call the Mayor's office. Call Barbara Byrd Bennett, CPS's CEO, at 773.553.1500. Call David Viatale, Chicago Board of Education, President at 773.553.1600. Call your aldermen, state legislators. Tell all of them that you will remember their action when next you go into the voting booth in 2015. 
"Ask your faith leader to talk about it and have block clubs to talk at it," Ritter said. "There will be a large rally at 4 p.m. on Mar. 27 in Daley Plaza. We (CTU) are really good at big meetings." 
Related:
Crime Stats By District
Columnists