Too much diversion and obfuscation: show us the festival books demand 5 community groups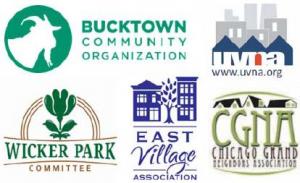 Too much "diversion and obfuscation" from chambers when asked about the financials for the over abundant street festivals from Grand Avenue to Fullerton Street between Western and Ashland Avenues, have led to 5 community groups banding together to demand answers as they look to protect members of their respective communities and the public way. 
"We want to be the champions of these festivals," said Steve Jensen, President of the Bucktown Community Organization (BCO) who is the Acting Spokesman of the coalition of BCO, Chicago Grand Neighbors Association (CGNA), East Village Association (EVA), Wicker Park Committee (WPC) and Ukrainian Village Neighborhood Association (UVNA). 
"But, we feel strongly that more transparency and consistency from fests in our neighborhoods are needed. We want granular financial reporting of income and expense. For example, we want to see how much went to insurance, bands, equipment, permits and fees and each type of security. On the income side, how much from the gates, beer, food, vendors, grants, etc. 
"If, for example, a chamber is making $62,000 in profit and another entity such as an events company is making $100,000 while $25,000 of public dollars have gone into the event and a local school has received a $2,500 donation, then we want to know that. There are community residents who have worked these events. We know that mountains of cash flow and that someone is keeping an eye on income. 
"We want festival books open. We want to have a dialogue between our group and festival producers and organizers so we can find honesty in their programs. We believe that will result in safer festivals, reduce aggravation among residents, and provide more tangible benefits to the community, community organizations and local businesses." 
He pointed out the importance of monies being re-invested in the local communities. "It is super important to put money into the communities because the City and Park District do not maintain our public places as they used to. We have three large public space parks in our area. We have to see that they are protected for the communities." [Parks are Holstein, Smith and Wicker Park.} 
In a letter going to the festival organizers, the coalition states that they request "from all festivals in our neighborhood, including Wicker Park Fest, Do Division, Green [Music] Fest, West Fest, Fashion Fest, and Design Harvest:
Complete transparency of festival financial statements. Including a detailed breakout of sponsorships, vendors, beer sales, grants, expenses & donations (at minimum, for the prior two years).
Inclusion of neighborhood groups in each festival's logistics, safety & police plans in a timely fashion so they can have input and inform residents of what to expect. 
Understanding that profits vary by fest, we would like more consistency between fests in our neighborhoods regarding the portion of proceeds that go to community beneficiaries. 
If the festival decides to take donations, they must post signage explaining how the donation will be used. (Chicago law states that you can't charge admission to the public way) This should include an established percentage of the gate to be donated to the identified nonprofit, excluding festival organizers. 
Each festival takes the responsibility to make sure any community organizations or non-profits receiving funds [or donations] are legitimate and are using proceeds as stated to go back into the neighborhood on a timely basis" 
Regarding next steps, EVA President Neal McKnight said, "We are looking for the Chambers and others to reveal this information to us. Then we prefer that the Alderman requires these groups to provide this information in order to be permitted."
Related:
Crime Stats By District
Columnists