Volunteers' "polite continuing persistence" wins respect and money
Chicago Park District's Maplewood Park, 1640 N. Maplewood Ave., and Lucy Flower Playlot, 2554 W. Moffat St., Advisory Council (MLFPAC) in Logan Square is a shining example of how polite continuing persistence and a lot of work by volunteers win major changes for their community. 
It could take 14 years, but even local skeptics are thankful when the major changes are successfully completed and their quality of life takes a giant step up. 
Polite continuing persistence is how Kate Dole referred to the work of two fellow MLFPAC members during the ribbon cutting for the new Maplewood Field House, July 17. She was referring to Kathi Pruett and Amy Ewaldt.  
"We were fearful of walking across the street to Maplewood [Park] when I moved here in 2005," explains Pruett. "It was a hangout for teens. There was a basketball court, but they didn't use it to play ball. It was uncomfortable and sometimes scary to walk over there, so we didn't.
"The Park and the basketball court were redone in 2007. I joined the MLFPAC and we tried everything to change the park's usage. A garden club, family activities, 3rd Thursday picnics and police Roll Calls…to name a few. But, that did not deter the behavior of the teens. 
"Families did not feel safe," says Pruett. 
At the same time, the PAC was faced with a very broken Lucy Flower Playlot, intended for children under 10 years of age. Demographics in the area were changing. More young children were part of the wave of newcomers. 
Ewaldt, who moved to the area and opened Cortland Preschool in 2009, decided to join the PAC in 2011. The PAC determined that they had to focus on the .37 acre Lucy Flower Playlot. 
By 2013, they had raised $425,000 to completely re-do the little park originally known as People's Park and appropriately renamed in honor of American welfare worker Lucy Flower in 2005. 
Proco "Joe" Moreno, then 1st Ward Alderman, put in $140,000 ward menu money, the community raised $70,000 and the Park District covered the remaining $215,000. 
When it opened in 2014, the park had a sandbox, play structure over a soft surface, picnic tables and a small water feature. A community garden blended well with some surrounding trees. 
With that accomplishment under their belts, the MLFPAC realized they had another hurdle to clear. In Maplewood Park, demands for programming exceeded available space, the baseball field was flooded most of the season, the Field House leaked and 500 people attended movie night with one barely functioning toilet. The PAC rolled up their sleeves again. 
They began by asking to expand the post-World War II (1948) brick box which was the Field House. 
"No matter the size of an 'ask' from funding sources, you need to do your homework," says Ewaldt. "And you need to show up consistently," adds Pruett. 
What's the usage? How many people served? What is the population and their ages? What is the staffing need? And on and on go the questions. 
They were regulars at Chicago Park District Board meetings. 
"We have amazing Council members. Everyone pitched in," says Ewaldt who took on the responsibility of Council President in 2017 from Pruett who served from  2013. 
Dole headed up bringing on the Chicago Cubs Cares and LISC Chicago who donated $85,000 to rid the baseball field of the swamp. 
With a $1.5 million price tag, the PAC knew they had to persevere to make a shiny new 3,200 square foot air-conditioned building and expanded surrounding play area a reality.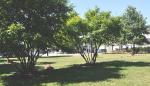 Moreno committed $800,00 from the 1st Ward menu money and the MLFPAC raised $100,000, while the Chicago Park District topped off the remaining with $600,000, confirms Chicago Park District's Michael Lange, Lake Front Planning, Planning and Construction. 
Engaging other community people and groups was an important part of achieving their fundraising strategies. Heidi Tischer, President of the West Bucktown Neighborhood Association (WBNA) was vital to those efforts.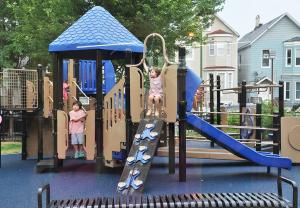 It was important to the team that more outdoor equipment was put into place along with all the other changes. Now the added equipment allows for more physical challenges for more children.
The heart of the new field house is a bright open multi-purpose room, which can be split up for different programs.
Offices, storage and lavatories fill the remaining space. Now there are two, one men's and one women's. Each can accommodate more than one person.
At the ribbon cutting, current 1st Ward Alderman Daniel La Spata, explained that parks were at the center of his growing up in New Jersey. He said that he is pleased that this Park is an example of the kind of park that should be accessible to every City neighborhood. Each "deserves the quality of facility, park staff and volunteers of Maplewood," says La Spata. 
They are also an example of how community volunteers can make a difference for the entire community. 
As the project architect, Grace Kuklinski Rappe, Principal, RATIO Architects, Inc., said on March 2018, "These changes will help change the perception of the area." 
Maplewood Park Facts Established in 1948 as a one acre park, Maplewood was one of land purchases by the Chicago Board of Education after WWII to create small pocket parks around the City. The Bureau of Parks and Recreation subsequently improved the property. with a compact brick recreation building and a play field that could be flooded for ice skating in winter, according to the Chicago Park District. Property ownership was transferred to the Park District from the Board of Education in the late 1980s. 
In the structure of the Chicago Park District, Maplewood Park is in the North Region, which is headquartered at 6601 N. Western Ave. Daphne Johnson, North Region Manager, is responsible for six areas, each of which has multiple parks under their management. 
Maplewood, considered a "pocket park," is one of eleven parks in North Region's Area 6. Managed by Erin McGuire, they are: Adams, Chase, Gill, Haas, Hamlin, Holstein, Maplewood, Oz, Sheil, Trebes and Wrightwood.
*Photos courtesy of Kathi Pruett and Amy Ewaldt
Other photos by Elaine A. Coorens
Related:
Crime Stats By District
Columnists