Wicker Park Committee new board gathers at holiday celebration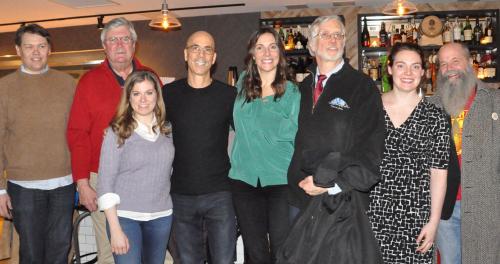 At the recent Wicker Park Committee's holiday party at the Chop Shop, 2033 W. North Ave., part of the new 2013-14 board gathered for a photo op.
Beginning at the left is Brian Root, who will be heading up Cultural Affairs; Ed Tamminga, continues as Preservation and Development Chair; Nicole Emerick will be doing all things Communications; Craig Norris will be Treasurer; Leah Root takes the reins of President; Bob Mantsch continues as Vice President; Sarah Lyons will be responsible for the minutes as Secretary; and Teddy Varndell will be in charge of Membership. Board members not pictured are Grant Drutchas, who will be concentrating on Community Relations, and Michael Cole, who will serve as Director. 
When asked about plans for the new year, the new President,  Leah Root , said, "I wanted to change the website, that is done. Not sure what else we will be doing as yet." 
Elected at the November membership meeting, this board has met once and will serve until November 2014. 
Though the party was for socializing, a small business meeting was held at the beginning of the evening. The purpose was to hear a presentation by Chris Johnston about Cheesies Pub & Grill and Wiskey Bar + Fry Bar coming to Milwaukee Ave.
WPC's Preservation and Development Committee hears, reviews and recommends to the board about project presentations from developers and business owners concerning development, zoning changes and special uses in and out of the Landmarks District. Presentations for development and zoning are presented to membership. That count is then sent in support, or not, to the Alderman, Landmarks, if appropriate, and to the presenters. 
The membership vote was to support Cheesies Pub & Grill and Wiskey Bar + Fry Bar proposal.
Related:
Crime Stats By District
Columnists