#ENOUGH say LaSalle II kindergarteners through 8th graders: "Do we not deserve the right to live anymore?"
A rousing 17-minute #ENOUGH rally at 10 a.m., March 14, took over the Wolcott side field of LaSalle II Magnet School, 1148 N. Honore. It was part of the National School Walkout organized by the Women's March Youth EMPOWER. 
Signs and t-shirts were the canvases for messages including "#Enough", "No more Guns!" and "No More Silence! End Gun Violence!" They were punctuated with those asking "Don't we deserve the right to live anymore?" It was Emma Gonzalez, an 18-year-old student senior at Marjory Stoneman Douglas High School in Parkland, FL, who initially asked that question. 
A flyer that went out on Friday prompted some students to participate in organizing the nationwide action day at LaSalle II. "I wanted to join in because I wanted to support the community and show that guns are not good," said eighth grader Luke McNamara.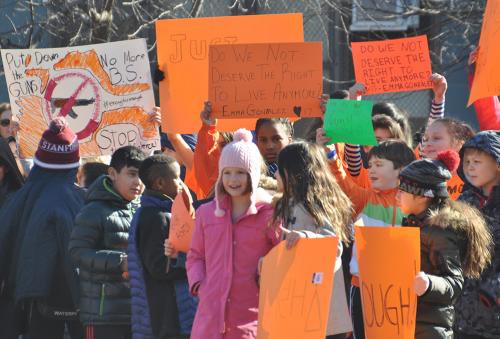 Nora Leff explained that it was up to her and her fellow eighth graders to be leaders in preparing for the event. They produced many of the large orange signs held by students of all ages. 
While their reasons for participating varied, several had family members who are or were in the military or in law enforcement. Manuel Ruiz's dad was in the military and is now a cop. "I wanted to help out because I hope the community will somehow change." 
Having family members who served in the military and a dad who is a lawyer, Julie Soukaras believes that if there were no guns, these problems would not exist. "We shouldn't have to be doing all of this." 
The daughter of a Chicago Police Officer and a resident of Pilsen where she hears gunshots every night, Aylee Salazar explained that though her dad has multiple guns, he doesn't believe in carrying them. He hates having to lock them up every day and hates hearing the gunshots in the neighborhood. She and her father are against having guns. 
Facing a shooting death
"My brother was shot to death in 1979," says Michele Dreczynski, parent of a 5th grade Guatemalan boy. "Even though it happened 39 years ago, it never goes away. It is devastating and changed the trajectory of our lives in a way people cannot possibly imagine unless it actually happens to them. 
"For me this is very personal, I would not want another family to go through what I did. I feel a commitment to stand out here with my son to make sure, in any little way, that somebody else does not have to go through the horror." 
Today's climate of hate
Dreczynski and another parent, Michelle Hughes, whose second grader is African American discussed the issue of race being a day to day safety concern. 
"Two years ago, I would have driven anywhere in this country," says Hughes. "Now I don't feel safe to do that anymore. I think people are arming themselves on both sides." 
Increased racism in our society is what she points to as the reason for the underlying fear that she and Dreczynski experience and talk about. 
Lockdown drills have been the experience for both of their children since kindergarten. Both have told their sons, to not be confrontational and make no sudden movements with authorities like police...because of the color or their skin.
The walkouts
The national organizers said that, "Students and staff have the right to teach and learn in an environment free from the worry of being gunned down in their classrooms or on their way home from school.
"We are not safe at school. We are not safe in our cities and towns. Congress must take meaningful action to keep us safe and pass federal gun reform legislation that address the public health crisis of gun violence."
One LaSalle II student put it this way, "How many more kids have to die until we actually have gun regulations. It's not right to protect guns over actual human beings."
All the action taken by these articulate, clear thinking students and parents spoke loudly and clearly. Based on history, gun regulation changes will only succeed if advocates keep making demands slashing their way through various layers of government to make it a reality.
Related:
Crime Stats By District
Columnists