Teachers picketing started at Alderman Moreno's office
"We are in support of education for our students and for support for our teachers," said Heath Davis from Goethe School who served as the spokesperson for the rally in front of 1st Ward Alderman Proco Joe Moreno's office, 2058 N. Western Ave., early morning, Sept. 13.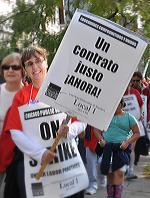 Chicago Teachers Union members, former teachers and parents were part of the sizable crowd and the audio circus of "CTU" chants, police sirens, honking car and truck horns, a party horn, a cowbell drum, a whistle and shouts of "Where's the alderman?"  No one was willing to say anything thing about why they were in front of Moreno's office. Asked whether it was triggered by the Fox interview, the response was no comment or their sign held up for a photo. One attendee did say, "We want his (Moreno) support."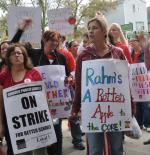 When the Alderman's office opened, staff was present and began working on setting up an appoint for the picketers and Moreno.
"I do want to tell you that the 32nd Alderman Waguespack actually came here earlier and gave us water, drinks and food," said Davis who also explained that this morning's gathering was pulled together via social media, emails and calls this morning.
Andrea Tolzmann, a 12-year Bucktown resident and a Pulaski School parent, said, "I feel that for the first time that I heard positive statements last night. That was not only from the Board side, which they have been saying from the beginning, but didn't seem to be genuine.  Hearing Karen Lewis (CTU President) say that she felt that positive steps were being made, that makes me think that things are actually moving forward.
"The teachers are fighting for more than just this one contract. This is about education and it goes beyond just Chicago. They have to keep this fight up because it is really important for the future of our kids."
In a conversation with Moreno early this afternoon, he made the point that he is "laser focused on principals having the right to select teachers without restrictions. Clemente High School is a good example. A school that can handle 3,200 and only has just over 900 students with 80% from outside our neighborhood. I would lay down in the street to make sure that principal has all the tools she needs to be successful. She needs to hire the best teachers possible. Union teachers, yes, but they would be her selection.
"How can we fairly hold her accountable, if we do not give her the right to choose those she deems correct for the job?
"When Clemente becomes an IB (International Baccalaureate) school, it will be the first in the world that will be a neighborhood school. Right now, I would not have my daughter attend that school, but by the time she is ready for high school, that will be a good choice."
*Photo courtesy of Heath Davis
Related:
Crime Stats By District
Columnists