Humboldt Park street named Javier Baez Way
Javier "Javy" Baez Way is the new honorary street name in front of Humboldt Park's the Little Cubs Field, as of Tuesday, April 11.
"The greatness of the CUBS' world series 23-year-old breakout stars' success was more than his baseball success," said Roberto Maldonado, 25th Ward Alderman. It was about his spirit, his love of his father and sister and the promises he made to both of them, before their untimely deaths. The senior Baez died when "Javy" was 11. His sister passed, at the age of 21, in 2015. Javy promised to take care of the family.
"Javy is a positive role model to the area's youth. He shows how to rise above diversity and achieve personal greatness," said Maldonado as he unveiled the new honorary street sign.
The cheers for Baez turned to boos when Mayor Rahm Emanuel was introduced. "We are Puerto Ricans," said Maldonado holding up his hand to the crowd. "We were all taught that when we invite someone to our home, we show respect." Most boos turned to cheers at which point, Emanuel addressed the crowd.
"Javy is a great player and person. When I was growing up, everyone wanted to 'be like Mike.' Now kids will be saying, 'I want to be like Javier.'," said the Mayor.
Patrolled by 14th District Police Officers, there appeared to be no incidents in a crowd that gathered by 10 a.m. and grew with each passing half hour. With a persistent wind and cold temperatures, the crowd was getting impatient by the time the principals began appearing around 11:30 a.m. All went smoothly throughout the ceremony.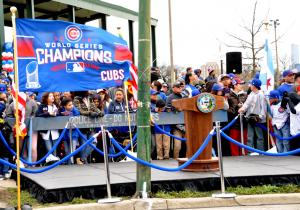 Photos by Elaine Coorens 
Related:
Crime Stats By District
Columnists