Avoid being ticketed: Know your street cleaning schedule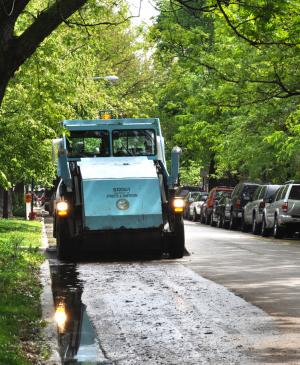 Beginning April 1, street cleaning will be coming to your street until mid-November.
Like many other Chicago City Services is on a grid system for sweeping. So, it is important to know when it is coming to your street if you want to make sure you, your family, friends and neighbors are not ticketed. This also means the street will be cleaned to the curb. 
While some streets have permanently posted signs that specify a once-per-week time for "no parking" for street sweeping, the rest of the streets have bright orange temporary parking restrictions posted the day before the scheduled sweeping. 
To determine what schedule is set for your address, you can check the City's schedule. Or you can go to a site (Sweeparound) that allows you to be pro-active. An address may be entered and then searches for that address' schedule will be done.
The searcher may then download the schedule to their desktop then import into their iCal, Google or Outlook calendar. The alternative is to subscribe, free, to receive reminders via email or text. 
Remember: sweeping goes from April 1 to mid November. Wards: 1, 2, 26, 27, 32, 42, 43, & 44  are serviced from the 1320 W. Concord, Streets and Sanitation location. Their phone number is 312.744.5045. Other Streets and San offices may be found online.
Related:
Crime Stats By District
Columnists