Both Chicago's winter parking bans go into effect at 3 a.m. Tuesday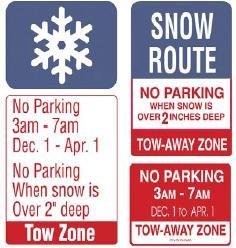 Snowy streets or clear streets, both of Chicago's winter parking bans begin at 3 a.m., Tues., Dec. 1 and end Apr. 1, 2021. The Department of Streets and Sanitation (DSS) has been leafleting cars, but maybe not yours!
A good reason to remember the overnight parking ban along 107 miles of city streets is the cost. To get your vehicle back starts with a $230 charge, which includes a $150 towing fee, a $60 ticket and storage fees of $20 per day. 
Along 500 miles of main roadways throughout the City, the second ban is any time of day or night when there are at least two inches of snow on the street. 
Cars left parked on these designated roadways obstruct the path of snowplows and prevent routes from being fully plowed and salted when it snows. During a snowfall, a build-up of snow next to parked vehicles on these routes impedes traffic flow. 
If your vehicle is missing because it has been towed or relocated, you can locate it via the City's Find Your Vehicle application. 
Auto retrieval must then be done from one of two Auto Ponds:
Auto Pound #6 at 701 N. Sacramento Blvd.
Auto Pound #2 at 10301 S. Doty Ave.  
Both locations are open 24 hours a day, 365 days a year. 
Note: this is NOT a new way for Chicago to part you from your money. It began 40 years ago after the 1979 blizzard cleanup was hampered by parked cars, paralyzing snow clean-up.
Related:
Crime Stats By District
Columnists