Chicago recycling and garbage billing in effect now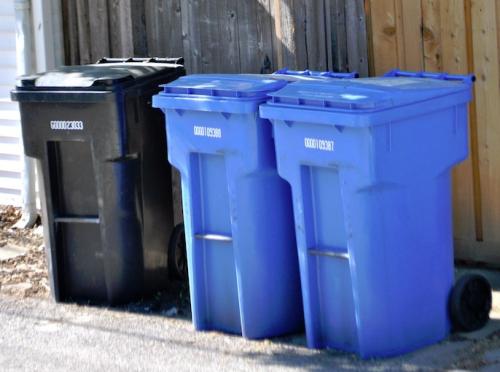 Energy and waste disposal are both focal points in Chicago's "green" initiatives but as the new year begins, waste disposal and garbage fees are center stage. Christmas tree disposal, garbage collection fee and Blue Cart rules require some thoughtful research.
Tree recycling 
There are 24 Christmas Tree Recycling sites in the Chicago Park District which will be open through Jan. 16. Humboldt Park maybe the closest location for most in West Town, Humboldt Park and Logan Square but this is the link for you to choose from.
Mulch for pickup
For those who would like to use free mulch resulting from recycling, mulch will be available at six Chicago Parks. This map shows the sites.
Blue Carts

Containers should be rinsed out. 
New requirement is to EMPTY the contents of paper bags into the Blue Cart. Those not following this new rule could face fines. The City says, "Pitch in! Lose the bag."
Those paper gift bags that aren't metallic are recyclable. Remove the handles, then toss them in the trash separately. 
Shredded paper MUST be put into a paper bag with the top folded down. 
Flatten boxes. Do NOT leave plastic liners in folded boxes. 
Six items NOT to go into the Blue Cart: 

styrofoam disposable cups
plates
to-go containers
packing peanuts
red Solo cups. (They're hard polystyrene!) 

Aerosol cans must be completely emptied and lids are to be separate.
Glass jar must NOT have lids on but plastic bottle SHOULD have their caps on. And, remove any pump devices as they may include metal.
For all the rules click here. 
Garbage Pickup Fee
Residential garbage collection will be billed at $9.50 per month per living unit. The "meter" on that started on January 1, 2016, and will be billed on the water bill. 
We expect to have more details available soon according to Molly Poppe, Department of Finance.
Other Disposals
Household chemicals and computers may be recycled on Tuesdays between 7 a.m. and noon and Thursdays between 2 and 7 p.m. at 1150 N. North Branch St. 
Compact Fluorescent Light Bulbs (CFLs) and Mercury disposal is recommended by the Environment Protection Agency. 
Pharmaceutical drop off for unused or expired prescription and over-the-counter medications are accepted at all Chicago Police Stations (24/7). There is a blue drop box in the lobby. 
Plastic film recycling sites can be located after entering your zip code on the plastic recycling page. A list will be produced. Not all items are accepted at all drop-off locations. Check with your local drop-off to see what is accepted. 
Only clean, dry plastic bags and film are accepted and must have no receipts or any other items in the bags.
Recyclable items include:
Retail, Newspaper, Dry Cleaning, Bread, Produce, and also other Plastic Bags labeled #2 and #4
Zip Close Food Storage bags (clean and dry)
Furniture and Electronic wrap
Plastic cereal box liners (if it tears like paper do not include)
Plastic shipping envelopes, including Tyvek ®, bubble wrap and air pillows (Remove labels and/or deflate) 
Product Wrap (used on paper towels, diapers, bathroom tissue, water bottles)
To test your understanding of the rules of recycling,
click here.
Related:
Crime Stats By District
Columnists