Chicago winter parking ban rules start Saturday morning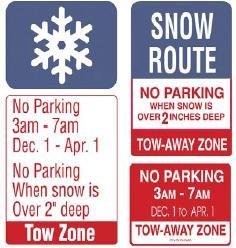 Snow or no snow, parkers can suffer consequences of Chicago's two winter parking rules starting Saturday, December 1, 2018, at 3 a.m. and going to April 1, 2019, warns the Chicago Department of Streets & Sanitation (DSS). 
Of the two types, the winter parking ban, on 107 miles of major streets, is in effect from 3 a.m. to 7 a.m. regardless of the weather. 
This map shows you the specific streets for this year. To disregard this ban will cost $150 minimum for towing fee, plus a $60 ticket and $20 per day storage.  
The second ban, on 500 miles of Chicago streets is activated when there are at least two inches of snow, no matter what time of day or night. Those who disregard this restriction may receive a ticket or find their vehicle has been relocated. 
To locate your vehicle, should it be towed, check this website. 
DSS is responsible for maintaining winter roadway safety on a route system of more than 9,400 lane miles. Their routes consist of city main streets, neighborhood streets and Lake Shore Drive.
Related:
Crime Stats By District
Columnists