Chicago's two winter street parking rules go into effect December 1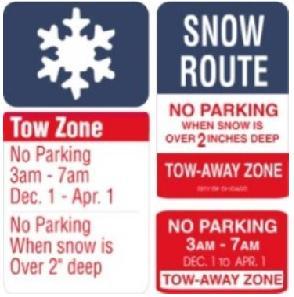 Chicago's parking restrictions begin at the stroke of 3 a.m., Thurs., Dec. 1, and ends on Apr. 1, 2015. 
Of the two types, the winter parking ban, on 107 miles of major streets, is in effect from 3 a.m. to 7 a.m. regardless of the weather. This map shows you the specific streets for this year. To disregard that ban will cost $150 minimum for towing fee, plus a $60 ticket and $20 per day storage. 
The second ban, on 500 miles of Chicago streets is activated when there are at least two inches of snow, no matter what time of day or night. Those who disregard this restriction may receive a ticket or find their vehicle has been relocated. 
If you suspect that your car has been towed, here is a car locator. Since the City's maps and listings for streets with the snow ban are a couple of years old, look for this sign, to know if you are parking in a 2" deep zone. 
There are also apps that will give you information and alerts for these restrictions. To view them go to this site. 
Related:
Crime Stats By District
Columnists