Recycling terror: Your Blue Cart is NOT emptied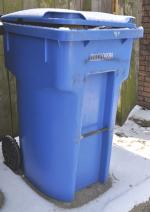 Blue Cart recycling is important for the planet, city and residents and now the new rules that came into effect are being enforced. "It's all about the flow of materials and education," says Jennifer Martinez, Department of Streets and Sanitation (DSS). 
Bagless is the immediate goal for the Blue Carts. Once you get to the Blue Cart with your bag of recyclables, open the bag and toss the contents into the cart. Then, if the bag is recyclable, toss that in too. Remember, if the bag is paper and has handles, just tear them off before tossing it in the Cart. 
The recycling equipment needs the individual items lose to be able to flow through the process. That does NOT happen, if they are IN a bag. Speaking of bags, even the clear plastic bags should not be in the recycling Blue Carts. Plastic bags are very costly to recycle when mixed with other recyclables. Thus everyone is encouraged to recycle them separately. 
If you have people in your neighborhood who are throwing  non recyclables or bagged recyclables in your Cart, call 311. Tell the operator that you are calling about the Blue Cart and what your issue is. DSS will send people out to help solve the problem through education. 
The education is for everyone. Do not hesitate to call 311 and make the report. It is for the benefit of everyone. 
In the meantime begin to memorize the Blue Cart charts and GO BAGLESS!
Related:
Crime Stats By District
Columnists