Save money: Abide by the winter and snow parking restrictions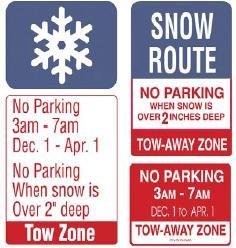 For all those who park a vehicle in Chicago, the Department of Streets and Sanitation (S&S) gives a reminder that the Chicago winter overnight parking ban goes into effect on Tues., Dec. 1 and runs through Mar. 31, 2016. 
It is enforced from 3 to 7 a.m., and impacts 107 miles of critical arterials throughout the city. Map.
"During a snow storm it is critical that crews are able to plow and salt Chicago's main streets. This helps us restore the city to normal as quickly as possible, and ensures that buses can access routes to take passengers to work, school and along their daily routines," said S&S Commissioner Charles L. Williams. 
Cars parked in violation of the overnight ban prevent critical routes from being fully plowed and salted when it snows. During a snowfall, a build-up of snow next to parked vehicles on these routes further reduces traffic flow. 
Signs
"Residents can assist us in this effort by checking signs and following posted restrictions."   
In addition to posted signs, S&S crews have begun posting flyers on cars parked on restricted streets as an additional reminder to motorists. 
Violators
Violators will face a minimum $150 towing fee, a $60 ticket and a storage fee of $20 per day. 
Vehicles in violation of the ban will be towed to Pounds 2 (10301 S. Doty Ave) or 6 (701 N. Sacramento).  
For more information on the overnight parking ban and a map of streets impacted by the ban, visit the S&S website.  
Related:
Crime Stats By District
Columnists