What's happening on Chicago streets?: How can you interact?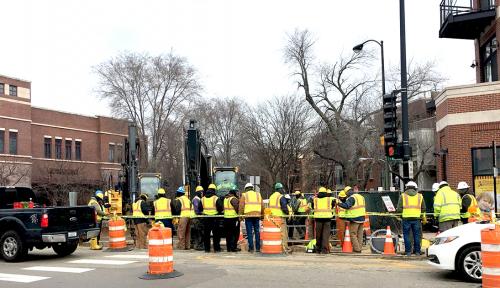 The Chicago Department of Transportation's (CDOT) new site, ChiStreetWork just came online Tuesday, expanding the public's access to City information.
Icons representing current construction and road repair projects, newly resurfaced streets and special event permits are displayed on a Google map. 
Aside from answering the construction question "What is going on there?," the map can aid in finding out if travel time from one point in the City to another may be affected. Permits for water, sewer, gas or electrical projects impacting City streets are also shown. 
"Chicago has become a national leader in making data available and accessible," Mayor Emanuel said. "ChiStreetWork enhances transparency, increases accountability and puts a host of data about ongoing infrastructure work and special events at the fingertips of Chicago's residents." 
ChiStreetWork
On the main ChiStreetWork screen, a search may be done by entering an address, ward, neighborhood or zip code. A map appears that matches the search parameters. Previously this data was only available to CDOT staff, aldermanic offices and the utility companies. 
The green icons indicate permits and the blue what work is being done. Example: Permit is "moving van parking" and work is a gas construction project.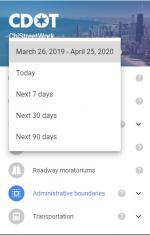 In the upper left corner of the screen, the date range for the icons can be changed.
Which icons displayed on the map can be changed by clicking on a specific icon.
Sweeper Tracker
The Department of Streets and Sanitation (DSS) provides Sweeper Tracker. This online service from the City operates between Apr. 1 and Nov. 1, the City's street sweepers may be tracked live between 9 a.m. and 2 p.m. 
Click here to get to the 2019 - Street Sweeping Schedules and maps by ward. 
A schedule and map for each ward is listed. The schedule shows streets in each section with sweeping dates by month. (Example below is for 1st Ward.)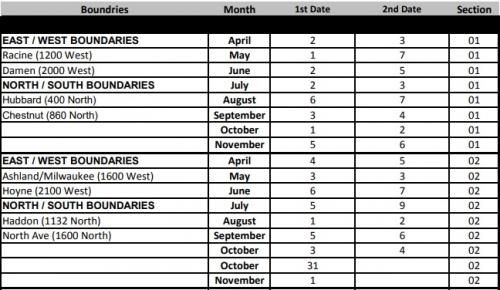 The map below shows the ward's sections.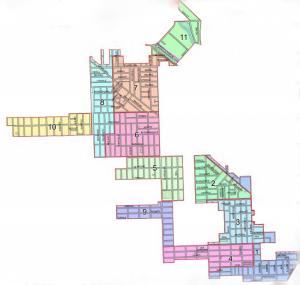 Other connections with the City 
Chicago's 9-1-1 and 3-1-1 services are available by phone and online. 

Welcome to CHI311 went online last year and is where service requests may be entered and tracked. 
9-1-1 and 3-1-1 are City of Chicago's phone services
It is important to understand that these services are handled by the Office of Emergency Management and Communications (OEMC). 
It is important to provide the correct information to the OMEC operators and it is important to obtain an incident number from the operator. That number will give you a way to track your call and it assures you that the call was logged in by the operator.
Related:
Crime Stats By District
Columnists