Chicago bike sharing system is coming to the Polish Triangle in Wicker Park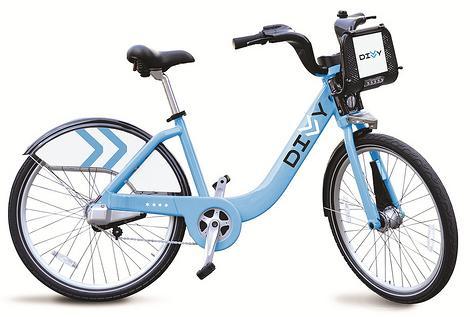 The Polish Triangle (Milwaukee Ave., Division St. and Ashland Ave.) one of Wicker Park's gateways, will be part of the Chicago Department of Transportation's (CDOT) new bike sharing program called  "Divvy." That will add to the transportation hub where the Blue Line, CTA buses, taxi cabs and the three major vehicle routes meet. 
While the program will be launching 300 sites in phases starting this summer, the exact date and location for the Triangle's stations have not been determined, according to a CDOT spokesperson. "Most people want to know how many bikes will be there, but the space is really based on docking stations. I believe there will be 19, which takes 56 feet long by 6 feet wide." 
"As the Polish Triangle Coalition (PTC) works on making the Triangle a vibrant spot in the area, we are very happy to have this added feature," commented Kapra Fleming,  a member of the PTC. 
Divvy will provide residents and visitors with a transportation option available 365 days a year, 24 hours a day.  It is envisioned for short point-to-point trips, or as alternative for a multi-mode commute.  Users will pick up a bike from a self-service docking station and return it to any other station nearest their destination. Bike locks for the $1200 valued bikes will not be provided as it is expected that users are going to another bike dock. Riders will also be responsible for their own helmets. 
Users will be able to purchase $75 yearly memberships or $7 daily passes, which will allow for unlimited trips up to 30 minutes each.  Annual members will be able to enroll online and receive a personal key used to quickly unlock bikes from any Divvy solar-powered docking station. 
The specially designed, Chicago Blue (as in the City's flag) colored, heavy-duty bikes are said to be comfortable for all users.  Features include a one-size fits all design, upright handlebars, wide seats, hand brakes, and a chain guard to protect clothing. The bikes feature headlights and taillights that automatically illuminate as the bike is pedaled. 
Bike-share is an integral part of Mayor Emanuel's Chicago Streets for Cycling Plan 2020, which calls for a 645-mile network of biking facilities to be in place by 2020 to provide bicycle accommodation within half-mile of every Chicagoan. The bike-share system is expected to expand to at least 4,000 bikes at 400 stations in 2014. The Divvy service boundaries are roughly from 63rd Street to Devon Avenue, from Lake Michigan to California Avenue.  
Alta Bicycle Share will operate the program year-round. As reported in the Chicago Tribune, the program "is budgeted to cost about $22 million and is 'expected to pay for itself' over time, said Sean Wiedel, an assistant commissioner at CDOT who oversees the bike-sharing program. Federal grants for projects that cut traffic congestion and improve air quality are providing the initial funding.
 "Chicago Transportation Commissioner Gabe Klein formerly worked as a consultant for Alta, but he has denied allegations by an Alta competitor that he steered the Chicago contract to Alta. Based in Portland, OR., Alta Bicycle Share manages bike-share programs in several other major U.S. cities and abroad."
Related:
Crime Stats By District
Columnists