Cortland Bridge opens giving a new view of east of the River
Opened by the Chicago Department of Transportation (CDOT) 10 days ahead of schedule, the Cortland Street Bascule Bridge introduces east bound travelers a whole new visual world than seen by travelers for more than a hundred years.
And I, Our Urban Times's Editor and Publisher, drove the first car across the refurbished structure on Wed., Oct. 21 at just after 10 a.m., stunned by the eastern view.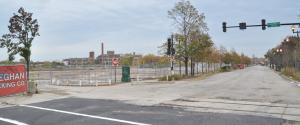 Coming down from the slight incline on the east side of the bridge, I had a hard time processing what my eyes were seeing…vast acres of open land.
On the south side of Cortland, a green-cloth covered fence blocked the view of General Iron Industries. The former A. Lakin & Sons building, now owned by General Iron, continues to be a visual anchor in the distance on the right. But, to the north east…empty land.
A. Finkl and Sons is gone. This is part of what will be a huge new development. It is the development about which 2nd Ward Alderman Brian Hopkins said, "I hope it will be beginning before the end of my current term." 
In addition to the City workers and some cyclists, John Greenfield, StreetBlog Chicago was at the bridge Wednesday morning. I was, coincidentally, in a video he shot as the bridge was being opened. We spoke on the east side of the bridge. 
He felt that opening the roadway to cars was a "sad moment. The bridge has been car free for several months and it's been very peaceful. That said, the improvements to the bridge are nice." 
He pointed out that replacing the steel plates with concrete for the bike path makes the surface more stable for cyclists. 
The Project
"We are very pleased to have completed this project that provided important structural repairs and added bike lanes to the Cortland Street Bascule Bridge, delivering safety improvements for pedestrians, bicyclists and motor vehicle drivers," said CDOT Commissioner Rebekah Scheinfeld. 
The project consisted of repairs to sections of the roadway, floor beams and trusses. Wooden sidewalks were completely replaced and a concrete bike path was installed on both sides of the roadway. In addition, the structure has a fresh coat of paint. 
Though the roadway was closed since June 1, there was an open sidewalk for pedestrians and bicyclists the entire time.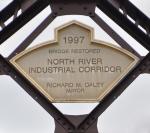 The Bridge
Despite the red and white striped gates, the bridge is no longer movable. Completed in 1902, it was the first Chicago Style Fixed Trunnion Bascule Bridge. The design was developed by City of Chicago engineers in the late 1890s and copied worldwide since. As the very first bridge of this type, the Cortland Street Bridge is now considered an historic landmark.
CDOT's Mike Claffey estimated that their daily traffic flow in 2014 averaged 9,900 vehicles.
Related:
Crime Stats By District
Columnists