Divvy bikes are ready for you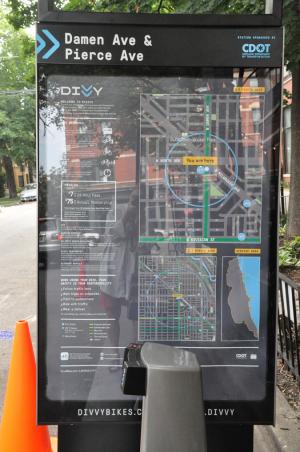 Divvy stations were installed in 75 sites this week. Friday, June 28, the bikes were distributed. Two locations in our area are on Pierce at Damen in Wicker Park as well as by East Village's Wells High School on the August side.
According to the Divvy tender on Pierce, there were approximately 6 bikes when he arrived at 7 a.m. By noon there were about 8.
"They do not fill the racks so that others may come in to drop others off," said the tender.
Each station has one panel that shows "where you are" and then a map along with an explanation of the charges.
"The convenience of having a bike available is going to be delightful," said local artist Cynthia Prokop. "I could see people walking past a bike rack on a lovely day, renting a bike on impulse and going for a spin. I could see folks looking for cab and deciding to just hop on a bike to get where they are going on time. Tourists will be transformed into explorers, free to turn down an interesting tree lined street." 
Prokop also pointed out that even bike owners could use a Divvy bike if their own bike was in for repair. "I look forward to seeing the good that comes from DIVVY!"
Editor's note: Tell us about your Divvy experience and/or thoughts.
Related:
Crime Stats By District
Columnists