Expanded Blue Line service part of CTA 2015 proposed budget with no fare increase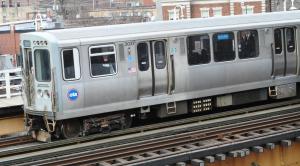 The Chicago Transit Authority's (CTA) $1.44 billion proposed budget includes expanded rail service due to increased ridership.
The Blue Line is one of the six (Brown, Green, Orange, Purple and Red) lines to receive the increased service.
The 2015 proposed budget includes expanded rail service to meet growing rail ridership, expected to increase by over 2 million rides in 2015. Additional rail service for 2015 includes additional morning and evening rush-hour trips on the Red, Blue, Brown and Orange Lines (Blue and Orange to have two additional trains), as well as additional service on other lines. 
Between 2011 and 2015, rail trips increased by 6.9 percent. In response, CTA added 66 weekday, 101 Saturday and 35 Sunday round trips on six rail lines (Blue, Brown, Green, Orange, Purple and Red). 
The Damen Station (closed for major upgrade work through Dec. 22) is part of the $5 billion in system-improvement projects completed, begun or announced since 2011. For more on the Your New Blue project click here.
This will be the fourth year in a row that capital funds will not be transferred to cover operating costs, according to the CTA. 
"After inheriting a $308 million deficit in 2011, we have presented four straight years of balanced budgets," said CTA President Forrest Claypool. "We've done so by taking a close look at every facet of our organization to determine what's working well and what isn't. We've implemented many management reforms that have reduced waste and trimmed spending, while upholding service and fare levels for our customers and creating permanent jobs that better serve passengers." 
This strong financial performance is despite the negative effects of state budget cuts and higher unfunded state mandates for everything from health care and pension costs to free and discounted rides, points out the CTA. 
Total ridership on the CTA is expected to grow in 2015 from this year to increase to 522.5 million in 2015, the eighth consecutive year of ridership exceeding a half-billion rides and the second-largest ridership of all public transit agencies in the country. The projected ridership represents an increase of 0.7 percent from 2014's expected total ridership. 
A public hearing will be held on Monday, Nov. 17, 2015 at 6 p.m. at CTA headquarters, 567 W. Lake Street, second floor conference room, Chicago, Illinois, 60661.
The CTA's full budget will be posted online. For all things Blue check here. For bus schedules check here.
*Photo courtesy of the Chicago Tribune's photographer Brian Cassella
Related:
Crime Stats By District
Columnists