Public Hearing for Damen, Elston and Fullerton intersections was well attended
The Damen, Elston and Fullerton Intersection Improvement Project presentation Public Hearing  was the final step in the preliminary engineering process for the project. It was held on Wed. , Apr. 27. at the Bucktown /Wicker Park Library. Attendees included a variety of area residents, business owners and property owners.
The project is a collaborative effort between the Chicago Dept. of Transportation (CDOT), the Illinois Dept. of Transportation (IDOT) and project engineering design consultant Alfred Benesch & Company who worked in close coordination with the 32nd Ward Alderman Scott Waguespack's office.
Most attendees were pleased that the vehicle issue is being addressed and carefully reviewed the materials and spoke with project representatives. Many spoke out about concerns regarding bicycle traffic.
One of the major bottlenecks is the southbound lane on Damen south of Fullerton. Bridget Stalla from CDOT pointed out that the project does not include Damen south of Fullerton and that "when installing isolated bike lanes, CDOT prefers to install a bike lane at least one-half (1/2) mile long in order to maintain a basic level of continuity for all roadway users.  The segment of W. Fullerton Ave. proposed for improvement is approximately one-eighth (1/8) mile long. Sufficient roadway width will be allocated through this project to allow for installation of a striped bike lane at a later date, should improvements be made to adjacent sections of Fullerton. However, CDOT will be reviewing its bicycle accommodations to be implemented in this project as it continues its design process."
In the top ten crash sites in Chicago with delays that can exceed seven minutes, the area is an aggravating night mare for all who attempt to traverse thru it, whether by vehicle, bicycle or foot. The six-legged labyrinth created by Damen, Elston and Fullerton consists of three intersections with short distances between and each having skewed angles.
With over 70,000 vehicles per day being unable to flow thru the area quickly, delays, congestion,  and safety problems are significant. By comparison, a straight four-corner intersection has an average of 40,000 vehicles.
A resolution to the challenge of this situation has included a previous meeting, with stakeholders, which included possible solutions.  Comments from  that event aided in the current recommendations.
Four alternative designs were considered:
Enhanced no build (no improvements and modernize signals)
An underpass of Fullerton
A bridge overpass
Reroute of Elston- preferred
improve pedestrian and bike accommodations, and spread signalized intersections apart, improve turning radii, and maximize use of undeveloped parcels (Will require Right of Way)
Benefits of the preferred alternative include:
preservation of access to properties
improved safety because of fewer conflicting vehicle maneuvers means
improved pedestrian and bike accommodations
one season for construction with minimal shutdown of traffic
support of future economic development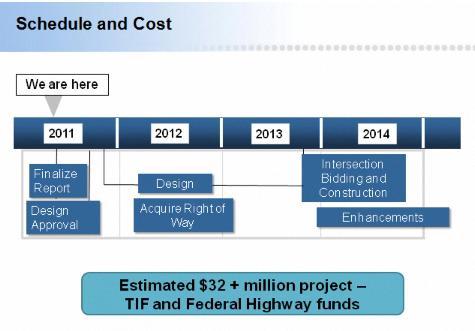 Finalization of the project's phase one will be completed at close of public comment period which is May 13. Approval of the report from the IDOT and the Federal Highway Administration; final engineering design and begin the right of way acquisition process which is expected to take two years.
Waguespack is interested in keeping any displaced businesses in the area and will work with the other agencies to help facilitate that goal. This project was under discussion before the Alderman took office in 2007 but he has made it a priority to move it forward.
Earliest construction 2013 and completion in 2015. Estimated cost is $32 plus million coming from TIF, already allocated, and Federal Highway funds.
The Hearing attendees had an opportunity to provide feedback on this proposal but others may comment too.  The comment form is available on the CDOT website. Comments must be submitted by May 13.
Additional coverage: The Expired Meter
Related:
Crime Stats By District
Columnists