Reminder: Vehicle stickers expire June 30 and 2014 sales move to a Year-Round Sales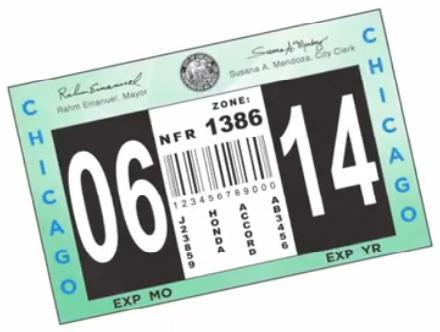 With the intent to have City vehicle sticker expiration dates on a 6-month separation from the State license sticker expiration date, this is the last cycle for the expiration of City and State vehicle stickers on the same day. 
While this June 30 is the expiration date for Chicago vehicle stickers and Illinois vehicle license plate stickers, in 2014 the City sticker will renew 6 months from your State license plate sticker. 
In 2014, purchasers will be given a choice to get a 6 month sticker or a pro-rated one that will be for a year and 6 months. As Chicago's City Clerk Susanna Mendosa explains, after 100 years it is time to give purchasers a new customer experience. 
This year, City stickers must be purchased by July 15 to avoid a late fee while the State vehicle stickers go up in price on July 31. The expiration of the annual residential parking permits and daily residential parking passes is also on June 30. 
Chicago city vehicle sticker prices remain $85 for a small and $135 for a large passenger vehicle. Seniors are eligible to receive one discounted sticker on a small or large passenger vehicle for $30, provided they have a valid Illinois driver's license and will be age 65 or older by June 30, 2013.
Related:
Crime Stats By District
Columnists