IDOT Motorcycle safety campaign encourages proper gear and warns against drunk driving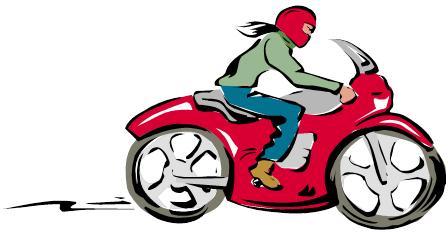 "Gear Up - Ride Smart" is the Illinois Department of Transportation's (IDOT) motorcycle safety campaign. Partnering with Illinois State Police (ISP), Gold Wing Road Riders Association (GWRRA) and A Brotherhood Aimed Towards Education (ABATE), the campaign promotes safe motorcycle riding through continued training and use of proper gear. It also reminds all motorcyclists to get licensed, get proper training,keep motorcycle equipment well maintained and not to drink and ride. 
Motorcycles represent 3 percent of total vehicle registrations, yet motorcycle fatalities account for more than 15 percent of all vehicle fatalities. Statistics show that about half of motorcycle rider deaths occur in crashes involving only the motorcycle, and approximately 40 percent of those fatalities involve motorcycle operators who rode after drinking. 
"Motorcyclists are at an increased risk of injury or death when involved in a crash," said Illinois Transportation Secretary Ann L. Schneider. "When alcohol is added, the results often are horrendous. Illinois has embraced 'Driving Zero Fatalities to a Reality' and wants all travelers on Illinois roadways to be safe. That's why we encourage all motorcycle riders to get prepared early in the spring season by taking a training or refresher course on motorcycle safety and to always wear the proper gear and never ride impaired." 
Motorcycle riding groups echo the same safety messages. "Our goals are to educate our members in proper riding techniques and safe operation, and to improve public acceptance and awareness of motorcyclists while maintaining a friendly, fun atmosphere," said GWRRA Illinois District Educator Jerry Allhands. 
"For the past 25 years, ABATE of Illinois Inc., has been involved in motorcycle safety, awareness and education," said Mike Myers, state coordinator for ABATE of Illinois. This year, ABATE of Illinois has developed a "Ride Smart" program promoting the smart riding choices a motorcyclist should consider before they start the motorcycle and decisions they will make during that ride. ABATE says some choices include checking your bike before each ride, hydrating with water, evaluating your medical condition before and during the ride, never assuming you are seen by other motorists, using proper braking techniques, staying alert during the entire ride and using all appropriate and highly visible riding gear. As in anything we do in life, it comes down to the choices that we make that have the greatest impact on our lives," said Myers. "So my Brothers and Sisters, please Gear Up and Ride Smart!" 
"Motorcycle riders are more at risk of injury than any other motorists at any given time," said Illinois State Police Lieutenant Colonel Terry Lemming. "The ISP encourages all motorcyclists to practice safe riding habits, and wear the appropriate equipment for personal safety and the safety of others," added Lemming. 
IDOT encourages all Illinois motorcycle riders to help create a safer motorcycling environment for all. To learn more about IDOT's motorcycle safety program, laws and regulations, statistics and additional educational materials, or to see a sponsor list for literature distribution locations, visit this website. 
Related:
Crime Stats By District
Columnists