McNight: Trilogy of support for local NFP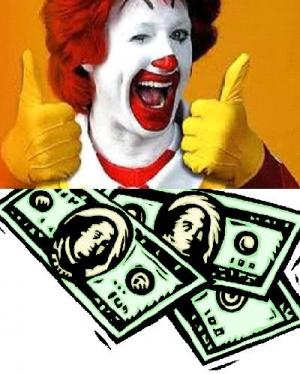 A trilogy of local Bucktown business owners, John DeCarrier and Carmen Solano-DeCarrier of McDonald's Restaurant, 1951 N. Western Ave.; the Junior Board and staff of Wicker Park's St. Joseph Services (SJS), 1501 N. Oakley Blvd.; and community members are joining forces to raise funds for SJS programs during the 1st Annual SJS McNight on Wed., Dec. 3, between 5 and 7 p.m.
To participate in helping maintain programs at not-for-profit (NFP) SJS, print out tickets, present the ticket at the counter when you order.
It is possible that your server will be an SJS server! "This type of event gives the group an opportunity to make some money and have some fun," said Carmen DeCarrier. "In this weather it is better than washing cars!"
The DeCarriers will donate 15% of all proceeds made during those two hours to SJS.
While the DeCarriers have hosted these type of events for schools before, this is their first support of a not-for-profit organization.
"St. Joseph Services is a ministry of the Daughters of Charity," explains Iris Milan of SJS. "We mentor youth and educate adults. These life-transforming services focus on the Humboldt Park and Austin neighborhoods."
The SJS Board of Directors includes: Mike Brennan, Chair, Prism Healthcare Partners LTD; Michael Grzelakowski, Vice Chair, Accenture; Meg Prost Munaretto, Treasurer, Community Member; Richard Stefan, Secretary, Accretive Health; Sr. Patricia Dunne D.C., Daughter of Charity, St.Vincent/Marillac House; Kristine Kenney, Community Member; Margaret McDermott, Retired from Presence Health; Edgar Nieto, Mercy Home for Boys & Girls; Jeff Norby, Multi Packaging Solutions; Sr. Kathy Overmann, D.C., Daughter of Charity, Marillac House; Michael Pins, M.D.. Advocate Lutheran General Hospital; Lee McDonnell, Director Emeritus; and Lisa S. Sullivan, Executive Director. 
The Junior Board of Directors includes: Jennifer Johnson; Martin Jurado; Alyssa Kahle; Anne Munaretto; Jennifer Settle; Emilie Vukovich; Sable Gardner, staff; Bea Jurado, staff; Iris Millan, staff; Kendra Roberts, staff; and Jack Waas, staff.
Related:
Crime Stats By District
Columnists