1st ward's Gabrielatos raises money in Chicago Half-Marathon run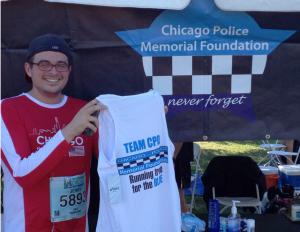 Jerry Gabrielatos raised $2,560 for the Chicago Police Memorial Foundation in his run in the 17th Annual Chicago Half-Marathon on Sept. 8.
Though he was sure that all Chicago Police Department personnel would run faster, he decided to participate. His motivation was the tremendous respect he gained for the men and women in blue that he has worked with over  5 years.
"I think this is a good way to show appreciation," said Gabrielatos whose boss, 1st Ward Alderman Moreno agreed to match up to $1,000 of what he raised. Furthermore, he proudly revealed that he shaved 6 minutes off his last run.
The Chicago Police Memorial Foundation provides assistance to the families of officers who have been killed or catastrophically injured in the line of duty. Every donation, no matter how small, is greatly appreciated by the families.
Related:
Crime Stats By District
Columnists