Alderman Moreno threatens Double Door building owner using "aldermanic privilege" for a campaign contributor
"You are not going to get a dime out of this building," Proco "Joe" Moreno, 1st Ward Alderman, warns Brian Strauss, building owner where the well known music venue, Double Door, 1572 N. Milwaukee Ave., resided for 20-years in Wicker Park. "I felt that he was intimidating me, that he was threatening me," said Strauss to CBS' Dave Savini in an interview aired Tuesday night. 
The videoed threats came the day Strauss evicted Double Door, a campaign contributor, in February, and while Moreno knew he was being recorded on a cell phone video, according to Savini.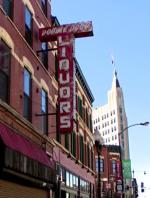 As pointed out by Faisel Kahn and Kelly Tarrant in a Project Six report, "it was six months after the Double Door lease expired, with no lease renewal submitted, the building owner requested that the venue leave peacefully. 
"That's when Alderman Moreno interfered in a routine private business dispute to attempt to force a building owner to rent to a specific tenant (Double Door)—even after a court ordered the tenant to leave the building." 
"I don't trust your word, I don't think you're a man," says Moreno to Strauss. "..part of life is also that you're not going to have a tenant in here for three years." The latter threat would have resulted a down-zoning of the property. A threat he followed up on April 13, 2016 with the introduction of City Ordinance. 
Hammering home what could happen to Strauss and his property, Moreno was captured saying, "When the leases are up…you can't sign leases with your tenants. It's going to be an empty building. No income for you or your family. End of conversation." 
"I'm going to have inspectors in here on a daily basis…I'm not threatening you. When you come back to me on your knees, which is gonna happen..." 
At the end of the exchange between Moreno and Strauss, Moreno walks over to Mulroney and says, 
This UTube video recording does not include some comments shown in the CBS report:
According to Savini's report, Moreno also attempting to get Strauss to sell the building to Double Door owners for millions less than its value at a meeting in City Hall.  The Project Six report lays out the fact that there was also an attempted deal between Double Door and the landlord for Double Door to stay in the building and pay significantly less rent than what other tenants pay in similar rental spaces. 
Both of these attempted "deals" happened in the City Hall meeting that Strauss and his attorney James McKay attended without being told what the meeting would be about. "Present at the meeting were Alderman Moreno; Alderman Daniel Solis (25th Ward), who is also chairman of the Committee on Zoning, Landmarks and Building Standards; Moreno's chief of staff, Raymond Valadez; Commissioner of Planning and Development Reifman; Assistant to the Mayor Claudia Chavez; and Double Door co-owners Sean Mulroney and Joe Shanahan," says the Project Six report. 
Given an opportunity, by Savini, to handle this situation differently, Moreno says that he would do nothing differently. 
In last night's video, Kahn explains that intimidation by a public official is "a business owners worst nightmare. What troubles me are the aldermanic threats." 
According to Kahn and Tarrant's report:
Aldermanic privilege: the longstanding, though informal, practice of City Council giving individual aldermen deference regarding decisions impacting their respective wards.
Even though the law does not require it, if a business desires a zoning change or a permit, City Council generally leaves the determination up to the alderman of the ward in which the business resides.
This practice creates an environment in which aldermen act as gatekeepers to the residents and businesses of their wards, with essentially no checks and balances.
Chicago aldermen have immense power to shape how city residents are allowed to live and how businesses can either survive or whither under choking city regulations and restrictions.
One of the most common tools aldermen have at their disposal is the ability to manipulate technical and complex zoning laws.
Preventing politically connected corruption
Project Six goes on to suggest how to put a stop to this type of political corruption:
For any small business, having a superior product or desirable location is a necessity for a successful enterprise. In Chicago, having the blessing of the local alderman is also a requirement for any hope of success or survival.
The power and influence that Chicago's elected officials hold over city residents and businesses is immense. Some aldermen themselves have even compared their power to the powers of Medieval lords in charge "of their individual fiefdom."
Alderman Moreno's involvement in the dispute between the owners of the Double Door and their building landlord is a stark example of the legal, personal and financial retribution that can come at the hand of an alderman.
Alderman Moreno's move to downzone the 1572 N. Milwaukee building in an attempt to protect the Double Door from being evicted is not a local leader working for the best interests of his constituents—it is an example of an elected official abusing his power to help the politically connected.
Regardless of how someone might feel about the Double Door or the building owner, Alderman Moreno's strong-arming is wrong and an example of why zoning and licensing laws must change.
*Double Door owners Sean Mulroney and Joe Shanahan donated money and in-kind to Moreno since 2012:
Donation to  Friends for Proco Joe Moreno from
Double Door Liquors, Inc.1572 N. Milwaukee Avenue, Chicago, IL 60622       
6/28/2012   Individual Contribution  $1,000.00
3/20/2013 Individual Contribution $500.00
5/6/2014 Individual Contribution    $1,000.00
7/12/2013 In-Kind Contribution  $5,000.00 Fund raising - hall rental 
More on the subject:  Double Door facing eviction-- Chicago Tribune;  Won't go without fight --Chicago Tribune; Double Door Eviction Judge Losing Patience--dnainfo; Double Door Evicted--ChicagoTribune
Related:
Crime Stats By District
Columnists