Community clean-up opportunities in 1st and 32nd Wards
Pursuing the belief that a clean community is a safe community, both the 1st and 32nd Wards are giving everyone in Wicker Park and Bucktown area the opportunity to participate in community clean-up activities this weekend, Sept. 22 and 23.
Cortland and Marshfield is this month's target area for Alderman Waguespack's 32nd Ward Clean-Up Meet-Up crew  starting from 9 a.m. until noon on Sat., Sept. 22. 
Christine Jensen says, "We plan to meet at Cortland and Marshfield and work our way around the corner to Ashland. We will be pulling weeds from the sidewalk and tree boxes, trimming overgrown branches, scraping and painting light poles and bike racks.  We will have scrapers, paint, brushes and rollers, tree trimmers and clippers, garbage bags, and brooms. We also have some extra gloves, but if you have your own please bring them." She may be reached via email or cell phone 773.551.3292.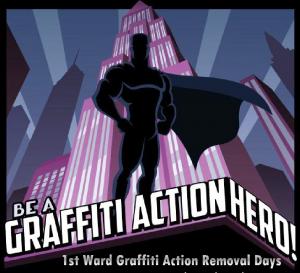 Milwaukee, Division and Ashland is the target area for the 1st Ward graffiti removal efforts according to Adam Natenshon who  is the person behind the Graffiti Action Hero efforts. "Our graffiti removal events empower people to reclaim their neighborhood from the visual blight of graffiti," explains Natenshon. 
Alderman Proco "Joe" Moreno's 1st Ward efforts begin with a meet-up in the Wendy's parking lot at 1623 W. Division (just west of Ashland) at 10 a.m. Sun., Sept. 23 and Sat., Sept 29. They will be hard at work until noon. For more information checkout the Graffiti Action website or call Orlando in Moreno's office at 773.278.0101.
You can participate in either of these efforts this weekend. Be sure to send us an email (photos are great too) telling us about your experience.
Related:
Crime Stats By District
Columnists