Graffiti threatens quality of life for some and a security and safety issue for others
"Currently there are 244 open graffiti cases in the 32nd Ward alone," said Scott Waguespack, 32nd Ward Alderman in the Bucktown/ Wicker Park Library during a 1st and 32nd Ward meeting with residents . The average monthly count in the 32nd is between 200 and 400, which swells to and beyond 600 in summer.  The night of Chicago's major February snow storm , 400 buildings were hit.
While much of the graffiti is along commercial strips like Milwaukee, Damen, North and Division, it also appears along the residential streets and alleys. At the meeting, some of the people, who represented residents, businesses,
Chicago Alternative Policing Strategy (CAPS) and court advocates, expressed their belief that this issue is a threat to quality of life while others believe it as a safety  and security issue, particularly when it is a hate crime or tied to gang activities.
What is it? Who does it? Why?
The definition of graffiti and/or tagging can get complicated. The broadest statement is that it refers to putting markings on private or public property without the permission of the property owner.  Markings are done on many different surfaces, hard and porous, with spray paint, markers or acid.
Tagging is "signing" property with a word or signature, initials or symbol, while graffiti is often coupled with the word "art."  It consists of larger images than a tag and is often considered an artistic expression. Regardless, it is considered vandalism and is generally punishable by law. Markings are classified as political, social or cultural statement, as hate based or gang related.
Taggers in particular take only a few seconds to make their mark and leave the site. They range in age from kids thru teens and into adults. They come from a range of economic and ethnic backgrounds from the city, suburbs and out of state with a range of reasons for doing it that includes marketing for new gang members.
What can be done about it?
Everyone can report it. If you see someone marking property illegally, call the police at 411 immediately. If you can safely take a picture of the offenders, do it. If you see new markings do not assume that someone else has reported it. Report them to 311 by phone or online or call your alderman's office. When making these reports, be sure to indicate if it is hate or gang related. When your report is taken, there will be a series of questions including multiple requests about the location.
If an offender is caught and it is your property then show up in court. Some owners have not shown up and the judge then has to dismiss the case. The lack of owner involvement can be due to a fear of retaliation but in fact most taggers are not gang members  they call themselves "artists." Taggers are often between nineteen and twenty-one, clean cut and driving a nice car.
Several people at the meeting were involved in a case where an officer caught the tagger and the building owner failed to show in court. Despite the fact that there was a witnesses, the police officer, court advocates and Alderman Waguespack, the circuit court judge said, "Sorry, without victim I have to  let him go."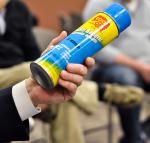 How do you get it cleaned off?
Alderman Waguespack carries Goof Off in his car, "It is good for small areas." One person indicated that putting WD 40 on the garage doors, makes it easier to remove it. Reporting the markings to 311 or the Aldermen's offices who get it into the 311 system is what is used to send out the City's trucks.
Answering the questions with correct information when reporting it is what truck schedulers to determine what equipment is sent out to clean it off.  Some paint over others remove.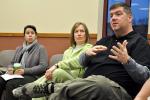 How can it be prevented?
As an individual concerned with their own property, motion sensors that turn on lights and cameras can be used to deter vandals and/or record their actions. Special anti graffiti film can be applied to plate glass windows.
Some people believe that stronger penalties for this crimes are required while others say it is an engagement challenge. "Give them public space to tag in (much like the skateboard areas set up by the city)." Others would like to see projects where the taggers/artists would be provided materials and space for things such as murals.
One resident who does a lot to help keep the neighborhood clean said, "There is only so much community members can do to clean things up. We need more services from the city. " A CAPS member from Beat 1324 expressed concern over the lack of prioritization and resources to combat violent gang graffiti, versus less threatening property damage by so-called "graffiti artists."
Putting more resources on the street is another preventive measure and advocated by both Waguespack and Jerry Galbrielatos, Director of Constituent Services for 1st Ward Alderman Proco "Joe" Moreno. They both indicated that they are working on that issue. Both Alderman also meet with police commanders and staff giving them their top issues of concern in the ward. Graffiti is always on those lists. They also have bigger meetings with multiple commanders and the Superintendent.
Photos by Sarah Tilotta
For more info: Previous story and comments;
Comment below about your thoughts and feelings around this complex issue which can have a major impact on a neighborhood.
Related:
Crime Stats By District
Columnists