Inaugural 1st Ward Awards event drew a crowd from beyond the 1st Ward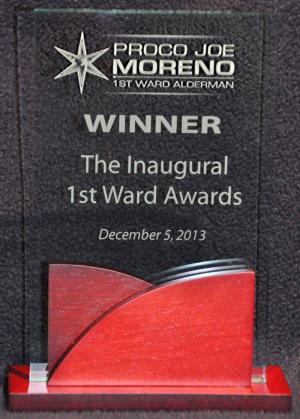 The Inaugural 1st Ward Awards event at Chop Shop, 2033 W. North Ave., under the watchful eye of the Matt Woodburn, was an evening of recognition and fun for all the attendees and award recipients on Dec. 5.  
A video introducing the 1st Ward staffers, with the theme song from the former TV series The West Wing, began the evening. Then Joe Glorioso (Joey G), Windy City Consulting by day and comedian by night, and 1st Ward Alderman Proco "Joe" Moreno commandeered the stage to present the awards, with appropriate (or not) music playing in the background directed by Matt Bailey.
First up was Ben Helphand, with the help of his daughter. He received the Best Neighborhood Addition, on behalf of the Bloomingdale Trail. Co-founder of the Friends of the Bloomingdale Trail, Helphand explained that the long unused railroad bed is in the process of being transformed into The 606 park and trail network. The Bloomingdale Trail is its backbone and 70% of it is in the 1st Ward. "This [getting the award] feels a bit premature since we still cannot go up there without trespassing. It's like Obama getting the Noble Peace prize before he was elected," he said tongue-in-check. He went on to say that the trail will be useable end to end  by the end of 2014. "It won't be finished, but it will be useable." 
Best Neighborhood Group was a choice of organizations. The selections were the Greater Goethe Neighborhood Association (GGNA), Wicker Park Committee (WPC), West Bucktown Neighborhood Association (WBNA), East Village Association (EVA) and Eckhart Park Community Council. WBNA walked off with that honor and was accepted by Deborah Bottjer. 
Best Neighborhood Festival was next on the list and a list of choices also. Joey G quipped that he was sure that next year the Divvy Crash Derby would be on the list, but for now it was  Do Division, Wicker Park Fest, Green Music Fest and West Fest with newly created Remix on the list for next year. Do Division garnered that award.
From a long list of parks in the area, the Best Park Award went to Wicker Park. Adam Housley, President of the Wicker Park Advisory Council received the award. Moreno also reminded the audience that of the 50 play lots in the city to get a makeover, four will be in the 1st Ward.
Best School Award category received the most votes explained Moreno. There are 13 elementary schools and 2 high schools in the 1st Ward. Moreno said that the state schools' report card came out recently and Chicago elementary and high schools were the best in the state. "Don't let anyone tell you that we don't have good schools in the City." 
For LaSalle II Magnet Elementary School, teacher Wendy Weingarten accepted the award on behalf of Principal Lauren Albani, who was giving a presentation in her graduate class that evening. Albani is working toward receiving her PhD. After thanking Moreno for his support for the school in helping them become more "green," he asked her to share a story that recently happened. 
Weingarten, who has been with the school since it opened 6 years ago, has been a regular at the Division St. Starbucks. In September she noticed that one of her favorite baristas hadn't been there so she assumed that she had gotten another job and moved on.
"Then two weeks ago there she was. It was clear that she had been on medical leave for cancer. So I asked one of the other baristas if it would be ok to make her some cards and posters. She said that she was sure that she would love it. 
"In my class [fourth grade] we have taught a lot about paying it forward and community service   So, we made some cards and did a walking field trip to Starbucks and did a poem for her and gave her cards that my kids and created on their own. It was the most touching moments of the school year so far this year. Then they in turn received a letter saying that they all were invited to see a play free of charge at Whitney Young. 
Best Community Group was Friends of Goethe School with Elise Doody-Jonesaccepting. "More people would have been here tonight but everyone is at the school tonight for our literacy night," said Doody-Jones. She explained how In 7 years the group had done a lot of things for the school because a bunch of people worked together and learned how to not take money out of operating expenses. "We have an amazing school. I always say to people, don't go far away, look in your backyard first. We have some of the most wonderful hidden gems. I had no idea. CPS schools are often fantastic, they have just been ignored for years."
Andrea Miller began Miller Chicago Real Estate about 15 months ago. Along with a cast of "thousands" they accepted the  Best Business Award. Happy to live and work in the 1st Ward she said that "this is the fastest growing neighborhood in the City!"
Joey G, who was once on PBS' Check Please! agreed with Moreno that the Best Restaurant category was really a hard one because there are so many great ones in the area. But the majority of the close to 500 some votes that came in went to Prasino with Ephi Maglaris accepting.  
West on North was the recipient of the Best Bar award. Joe Sabath, owner, accepted his award with special thanks to the Best Neighborhood Group, West Bucktown Neighborhood Association.
In expressing his gratitude for being declared the Best 1st Ward Staffer, Matt Bailey thanked  "the Pope, mom and the person who invented yoga pants!"
The only tie of the evening was for Best Politician which went to 32nd Ward Scott Waguespack and 2nd Ward Alderman Bob Fioretti. Both agreed that the 1st Ward is great and that it takes all three of the wards to work together.
Awards and recognition, not voted on, were presented too. A Life Time Achievement Award was presented to Elaine Coorens (oops…that is me!). After being surprised, awed, humbled and thankful, I started thinking about the award. "'Life time achievement'…wow, does that me it's over…I'm done now?" Then I realized that since Taylor Swift won a life time achievement award last month, she and I had a lot in common. She is tall with long blonde hair…well, I did have long hair for a longtime. She has people who have people… that is something that I aspire to. She sold 25 million records and 75 million downloads so she has made a lot of money…ok, I haven't done that. Oh yes, she is 23…right. However, she is now my beacon because like her, I can be working toward my next Life Time Achievement Award!
Organizer-of-the-Year Award went to Rousemary Vega, who went from fighting to keep LaFayette school open to working with moms City-wide to promote local schools. She pointed out that, "When community schools are closed, our community is broken because our neighborhood starts with community." 
Moreno also recognized many other 1st Ward contributors to life in the ward which included Mildred Pagan, President of Lathrop Homes; Jose Espejo; Carlos Diaz; Orlando Lopez; Celan Roldan Moreno, Erie Neighborhood House and Joe's wife; Joe Muntaner; and Johnny Elias.
Related:
Crime Stats By District
Columnists