People with Passion: Brian Gorman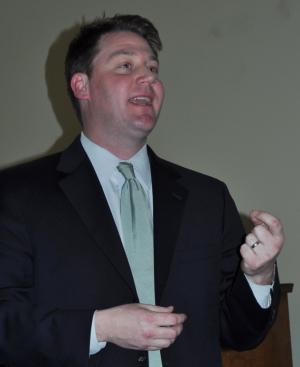 Interview February 9, 2011
-
If you told me two weeks leading to the 2007 municipal elections that four years later I would be on the ballot for alderman, I would think you were absolutely, positively crazy. There's never been a career track for me to be an elected official or involved in politics in any capacity. At that period of time, I was a stay-at-home dad. My daughter had just been born a couple months prior. My wife's a teacher. She had better insurance. I had a job that didn't have insurance. So I stayed home to take care of my daughter. And that was the same time that Senator Barack Obama had announced his intent to run for president.
A lot of us were caught up in that process. I had started volunteering, making phone calls at the Adams Street office during that primary season. That was my first taste of actually participating in the political process, making calls for Barack. I would do that at night. And it was a pretty rewarding experience. I got to meet some pretty great people.
That summer I got an email from his campaign saying that they were having this thing called the Obama Organizing Fellows Program. They were asking for a six-week commitment. They would provide housing in Indiana, and I would work for six weeks as an organizer. My wife had the summer off, and childcare was provided for us, and I said, "This is something that I would like to do. I don't know what's going to happen in the six-week experience, but I want to own a little bit more of this campaign than just being a volunteer."
I ended up in Fort Wayne, Indiana, and shortly after the internship they decided that they were going to make a real strong play for Indiana. They were hiring staff. I was hired as a full-time organizer at that point, which was a huge commitment for me and my family, because it meant that I was going to be gone from August straight through to the election. Which, obviously, turns my wife into a single parent.
There had never been any kind of Democratic organization in Indiana at any point. Hadn't gone blue since 1964. Ruby red state. Always the first to be called on election night: "Indiana goes for... Republican X." My wife and I worked out child arrangements and saw if we could make it happen financially, and we were off. That was my experience in politics.
At the conclusion of the campaign, where a lot of the young folks were on their way to Washington D.C. to work in various departments, I wanted to get back to my family. I wanted to continue the grassroots organizing I had done on the campaign, but I wanted to do it here in Chicago. I was part of a working group that gathered one hundred organizers from all over the country, state leadership from all over the country, and rock star volunteers. We pow-wow'd and said, "What do we do with the 1.3 million people that were never involved in politics before that were involved in this campaign? And how do we continue to grow the movement that we were all a part of?"
Out of that came Organizing for America, or OFA. I was hired as a regional director in the spring of 2009 to advocate for President Obama's legislative agenda, while essentially mobilizing and empowering the residents that live in Chicago to communicate with their neighbors about what it is that we're doing. What OFA does is say, "You have a group of people interested in a particular issue, and as organizers you give them the tools they need to communicate with their neighbors, spread their message out, talk to members of congress, get in media, building support for these issues." And the reason I'm running for office is that this is a great political tool. Municipal government is a perfect laboratory to actually govern using this organizing principal, and the work and the role of alderman is, I think, perfect.
Okay, but obviously even as alderman, you don't do it alone. Why did you decide to be the name on the poster?
The reality is that the person running the office was not doing the job that was asked of him by those who voted for him in 2007. So to go to him and say, "Do it my way" is somewhat naïve. If you've spent any time talking to us at these candidate forums, I think that there's a lot of agreement on these issues. Tackling the budget issue, the pension issues, we all want good schools to send our children to. We disagree on the margins. The reason that I've chosen to run for office, to be the name on the poster and the front of the office, is that I'm the one guy who has the experience organizing hundreds of volunteers. Building an organizational structure that will engage people and will work at the government level.
It's a big ward. You're talking from Chicago Ave. all the way up to Addison Ave., and Western Ave. all the way to Sheffield. It's gerrymandered and cut in a very unique and special way (laughs), but you need to think creatively on "How do we provide service?" and "How do we engage people all throughout the ward?" If you're focused on nothing but neighborhood groups as your sole source of information and feedback from the community, it's a very small, limited number of people that can actually attend and be involved in these things. You won't have the full picture.
But if you have volunteers who are committed to making the community better, and they're actually going door to door the same way I've been doing with the President's campaign for the past two years, saying, "I'm here as a volunteer for Alderman Brian Gorman. We're canvassing the neighborhood tonight wondering what are some of the issues and concerns that you have on your block?"
A working family, people with three kids, parents work full time, they're not going to go to Ward Night. They're not going to sit in Alderman Waguespack's office for three and a half hours to tell him about the rats and the potholes that are in the street. They're simply going to call 311, or they'll leave a voice message, but their voice is not being heard. And it's not because they don't have a story to tell. The mechanism the alderman is using is not engaging the people that live there. You have to provide an organization where you say, "What are some of the things that we can do to improve your community?" That's the work that I've done. That's the work that I continue to do. And I believe that if I'm elected alderman, that's the model I'll use to engage the people that live throughout the 32nd Ward.
[I read Brian the Roosevelt quote and ask for his response.
"If, on the other hand, [a man] attains public position, let him not strive to plan out for himself a career. I do not think that any man should let himself regard his political career as a means of livelihood, or as his sole occupation in life; for if he does he immediately becomes most seriously handicapped."]
I mean, I would need to ponder that a little bit deeper. Handicapped in what way? I'm not a career politician, so it's easy for me to say that, you know, this is the wrong approach. There certainly needs to be some consideration for term limits, only because you can be an alderman now, and if you want to continue, you can go be a state representative some place else.
There is a fundamental truth that the more you are entrenched into the system that your sole motivation is, at a certain point, not doing the job that you're meant to do but keeping the job that you have. I get that. And frankly, I would probably - talk to me in twelve years after I finish my third term and see if that holds true, and you can come back and say, "Hey, you were talking about term limits back when you were in your mid-30s when you were first running for office - "
Do you think there should be term limits for aldermen?
You know, I don't know. I think that there are certain arguments for and against term limits. I don't necessarily know how that would change the council. Getting new people all the time, is that necessarily the best approach? Are you taking someone who is a really good leader in the community, who has built relationships with all the groups, has provided and met the needs of the job, but because they've been here for eight years, they have to go? I don't know. I don't have a strong opinion one way or the other on term limits.
Okay. It's February 23rd. You've been elected alderman. What are you most excited to get to work on?
To get to work on some sleep. I think would be the first thing. (Smiles.) But setting up an office and reconnecting with everybody in the ward. When you have four candidates, you're always encountering, "I think you're okay, but I'm with this guy," that kind of thing. Taking a step back, taking a breath, saying, "Okay, this is our six month plan that we've laid out.
How are we going to get from February 23rd through August? And how are we going to set these things up?" Really getting into the nitty-gritty, the process. Understanding what takes place down at City Council, the learning experience, the orientation of what goes on down there, and starting to work on the challenges. Saying, "There's going to be a budget vote for 2012. And we don't have the luxury of the parking meter money. So let's start working with our partners in labor and our firefighters and saying, Help us meet this challenge." Evaluating the ward and coming up with a four-year plan on what infrastructure needs need to be met. Working with neighborhood groups and reintroducing myself to people that maybe didn't vote for me, but I want to earn their trust and let them know that I'm going to be alderman. I guess that was my convoluted way of saying that there is no one thing. The thing is big, and I'm excited to do all of it.
Other 32nd Ward Aldermanic candidates profiled in this series: Scott Waguespack ; Bryan Lynch ; David Pavlik
More information: First look
Related:
Crime Stats By District
Columnists