People with Passion: Deborah Lopez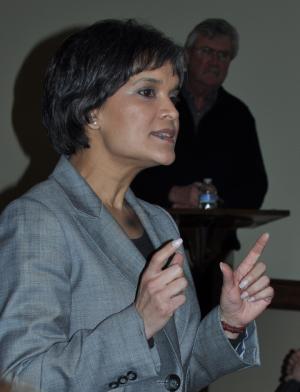 Interview January 27, 2011
-
When you grow up in a family that values public service and improving your community, it rubs off. And it certainly rubbed off on me. Since I was a little girl, five years old, I remember going along with my parents to community meetings. They were always advocating for residents, for the services that were lacking. I remember that. I continued the track of public service by combining community activism with government. I've been in the field of government community relations for many, many years. I really liked that combination. In order to be an effective public servant, you need to have the community involved, and then you need government, people in city council to help advocate on behalf of the constituency or city wide. You can't have one or the other.
I always had an interest in building strong communities, and then assuring that we elected public officials that would look out for us. That has been my focus. From working at the state legislature, and getting experience of how that process works at the state level, to working for the private sector, let's say the utility company, and seeing how that dynamic works, to working at City Hall. Starting a small business and learning that experience, and the difficulties of jumpstarting a small business. I learned how it can be difficult maneuvering through the bureaucracies, just getting whatever you need to get your business started.
All of those things have been learning experiences, and as I've gone through, I've focused on what we can improve on. I always hone in on, "This has been not a smooth experience. How would I be able to improve this process?" Or working among state legislators - as we hear in the news, it's often times very political, and we forget about the public policy that we're really there to do. I hone in on those things and say, "How can we improve on that legislative process? How can we hold our state elects more accountable so that they stop the political bickering and really hone in on the residents that need help?"
I believe timing is everything. I think all of us get to a point where we have collected an enormous amount of experiences, you've made friends, and a professional network of contacts - it's like coming with a trunk of resources based on the twenty some years of experience. It's like, "I've done this, all this state, city, non-profit, private. How can I take all that and do more for my community?" That was why I felt this was the time to run for alderman. I come in with suitcases of resources. Because of my experiences, I can easily pick up the phone and get a meeting. Whether it's with the CEO of a corporation, or a non-profit, I want to use my resources that I've collected.
I think we're at a point right now, at a juncture - the mayor's leaving, and we're gonna have new leadership. Now more than ever we need strong leadership that can begin to think strategically, globally, because I really believe that a lot of the problems that trickle down to the local level are systemic. Whether it's our education system, our police department, or even city programs like CAPS - we have to go beyond the band-aid approach.
Naturally, I would need to make sure that the constituency, the residents of the 1st Ward, are receiving the services, basic services to begin with, in a very fair manner. But for me, that's a very basic thing. That's what I'm hired to do. I'm talking about raising the bar. There are some residents out there that feel, "That's all we expect, and all they do." They manage the city services, the garbage, the rats, the lights. But we need to raise the bar higher than that. I want people to begin to think big picture and think of the possibilities that we can do that are more creative, outside the box sort of things, and not doing things in your traditional way, the way they've been doing. "Here's your list of CAPS meetings, these are your street cleaning hours, and they're gonna come by and clean your street, come and pick up your parking permit..." That's not enough.
In nine months, a lot can be done in terms of really involving residents, but for that to happen, you need to have the experience of how to fit the pieces, and that comes with experience. Because I know how the private works, I know how the non-profit works, I can immediately start connecting based on the people I know, and bring them to the table and say, "Hey, I've got this idea. How can we make it happen?"
Let's say schools. The schools in my ward. Each school has its own personality and needs. They're very different. And it's a community. It's an educational community right at the center there. So I would really want to get an assessment of what are the problems, just get an overall picture. Burr has this problem, Sabin has the other, strengths and weaknesses, from local school council to principal - just the whole thing. And I would of course need to work with whoever the CEO at that time is, hold them accountable, and say, "Look, I need to know. Give me a report."
I feel that aldermen nowadays, they're not holding our sister agencies accountable. I would want an assessment. "This school doesn't have a gym, doesn't have a music program, doesn't have an arts program because of budget problems." I feel worn out sometimes hearing what we've lost, what we don't have. "We don't have the money." You know what? Let's start focusing on what we have left. I want those kids to have music. They can learn math through music. There's a lot of reasons why we need those programs. And it's horrible to see that they're not getting it.
I would easily contact a university. I have good relationships with several universities, just based on my experience. I would call them up and say, "Hey, this is my idea. Can we partner with your music department?" And they would probably say, "Oh, yeah, well..." because they're not thinking that way. So I would propose to them, "This is the idea. This is how we would connect it. We would get a professor." I would bring the curriculum if they needed me to. That's based on experience. I know the curriculum. I would say, "This is what I'd like to see happen. Let's partner." And I can almost guarantee that I could bring that resource into the school, whether it's for three months, or whatever I'm able to negotiate.
The other thing is my contacts with the corporate, private world. There's corporations out there that are sitting on money and are interested in being responsible social corporate leaders. I would go there and say, "Hey, this is a great idea," and create the win-win for them, because naturally they need to feel like they're getting something out of it. It's only natural that any relationship be reciprocal in a good way.
I really enjoy doing that. I've done that. This is something that the 1st Ward would really benefit from based on my experience.
[I read Deborah the Roosevelt quote and ask for her response...
"If, on the other hand, [a man] attains public position, let him not strive to plan out for himself a career. I do not think that any man should let himself regard his political career as a means of livelihood, or as his sole occupation in life; for if he does he immediately becomes most seriously handicapped."]
Politics should not be a career. That's another thing that is disheartening for me. People going into the arena of elected office, I think their focus and priorities - some of them, not all of course - it's more of a career focus. " I'm gonna be the alderman, and then I'm gonna be a congressman, and then I'm gonna be mayor." That's their goal. There's nothing wrong with having goals and ambition. However, I feel that they've lost sight of your role as a public servant.
That's something that I have, since a very young age, been passionate about. The true definition of the word. Serving the people. Assuring that the people are receiving services, and not only that, but as a public servant, I would certainly also be looking at the needs. The new needs. There might be a need that isn't being fulfilled, and I would be making sure they're getting what they need. Because it's public service. To me, it's so basic. And I think that government and elected officials have lost sight of that.
Do you think aldermen should have term limits?
I think term limits, not just for aldermen, but any elected office, is something we should look at. I'm very passionate about public service, and I will always be in public service whether I'm an alderman or not. I will continue my work. But it takes a real special person, one that's really passionate and serious, to keep the spark, to be creative, to be able to imagine "What next?" You're constantly creating. I find that elected officials start out real strong with talking a lot of new things, and then they kind of dwindle off. They start getting comfortable - and this is my observation, and of course there are some good ones out there - but they get comfortable. They start cranking it out. It's almost like a cookie cutter. So I think maybe having terms might keep it fresh.
I believe that you need at least two terms. Eight years. There's a lot to do, but not only that, it's always a good feeling to be able to implement your plan and your vision, and make sure it's successful. But I really would need to also gauge the residents of the ward, and how happy they are with how I'm providing services and representing them. I think they need to be a part of that.
For me to say, "Yeah, I need term limits," we need to keep the people involved. There might be a large constituency that says, "Hey! Don't leave! (Laughs.) We want you to do some more, and these are our ideas for you to implement and help us make happen." I believe that we always look to our residents of the ward, what they're feeling, and what they're needing. If there's a loud cry to say, "Alright Deb, you've done what you've done, and it's been great, and we want someone else..." I represent them.
So, last question: It's February 23rd, 2011. You've just been elected alderman. What are you most excited to get working on?
I'm most excited to begin to work with the different constituents in my ward. The ward is so diverse, which really excites me. And we can do some really creative things because of the diversity of the ward. I'm really excited to bring everyone to the table and listen to the good, the bad, and the ugly, just listen to everyone at the table and start connecting. I think unfortunately, there are pockets, or I should say islands - you have Wicker Park, Bucktown, a little bit of Ukranian Village, and that's not my vision for the ward. I really think you need to connect. If you live in the northern part of the ward, and I live in the southern part, then of course your concern is what happens in your immediate area, but when you walk out the door you still feel like you're a part of a whole.
That requires a certain personality, a skill set to build consensus and coalitions, which I've enjoyed doing the past years, and that's what I would really want to hit the ground running with.
Other 1st Ward Aldermanic candidates profiled in this series: Proco "Joe" Moreno; Ron Baltierra
More information: First look
Related:
Crime Stats By District
Columnists