Privatization of public assets -- What is it really about?
Privatization is a term that is being heard more and more throughout the United States as governments have problems creating balanced budgets.  Many have found that "selling off" public assets save political face, covering today's costs and leaving revenue problems to be solved in the future.  Is that good or bad?
The most current and hottest "sale" example in Chicago is the parking meter deal. That issue still sends even mild mannered people into fits of babble and an occasional foaming at the mouth. Since then, Mayor Daley has indicated that "all things are on the table" when it comes to finding ways to balance the city's budget. Starting last May, water privatization was mentioned. That possibility has sent many into a surge of activity.
32nd Ward Alderman Scott Waguespack, who was the only City Council member to do research and throw up caution flags before the parking meter deal went through, decided that it was important to start a public dialogue about privatization now, specifically around water.  To that end, he invited top people in their fields who work in and around the privatization issue to speak to residents.  They were Jon Keesecker from Food and Water Watch, Rachel Weber, Associate Professor, Urban Planning and Policy Program at University of Illinois Chicago and Phineas Baxandall of U.S. PIRG (the federation of state Public Interest Research Groups).
A series of questions about privatization were at the base of this event. They were:
What is it?
While privatization is defined as the transfer from the public sector (government) to the private sector (business) of property and/or services ownership, according to Dr.Weber there are several different models.
Why choose privatization?
For the most part, governments are living beyond their means.  In order to fund their budgets they keep finding unique ways to plug budget holes because most politicians to not want to raise taxes or face the tough revamping of their governmental structures.
What does privatization provide?
"Selling public assets" gives an upfront infusion of cash and the possibility of cutting some costs. Sometimes those cuts have greater ramifications in terms of jobs. Theoretically in some situations, privitization can be a good, sound way to do business. Just like the intent behind Tax Increment Financing (TIF) is good, it is the execusion that is the problem.
What justification is there for this approach?
Often the claim is that the cost of producing the product or providing the service is greater than their income. The same reasoning is given for maintenance costs.
It is claimed by proponents of this approach that there are more efficiencies in the private sector therefore it is a good business decision for the provider because they can make money while costing consumers less.  There is a lot of private capital available for public infrastructure investments.
According to Keesecker, leasing Chicago's water utility to a private company could cost Chicagoans two to three dollars for every dollar the city receives as upfront payment for the system. A briefing paper, Water Privatization Costly for Chicago, finds that Chicago could save twenty to fifty percent on a twenty year loan by using municipal bond financing.
While all speakers wanted to show positive reasons that privatization can work in some cases, they sited example after example where privatization was not generally the answer to big city problems.
Audience questions included whether water could be rationed or withheld; costs could go up dramatically; sales could be to bottlers or others;
Discussions included the fact that the terms of the contracts are important.  For example, the city should have the ability to review the contracts every five or ten years. Someone else said that water is a basic right and that the interest of a contracter would not be for the good of the public but rather financial gain.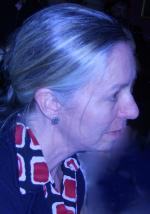 When all was said and done, the presenters and the audience seemed to agree. In Chicago, the chances of a successful partnership for water in particular was not a realistic outcome. The list of projects gone wrong, that cost the public millions is too long to expect a different outcome for a water privatization deal.  Corruption, lack of financial transparency and lack of well run government  appeared to be at the center of those conclusions.
In an attempt to curtail corruption by forcing transparency in city government. Waguespack was the chief sponsor last October of a  proposed Public Interest Ordinance on Leasing City Assets. City Council has still has not been voted on the ordinance.
Some questioned how to get more people involved in the issue of privatization. Keesecker suggested three actions: 1. contact your alderman; 2. write a letter to the editor of your local newspaper; 3. suggest that other groups have disuccsions like this forum.
This subject of privatization is broad and deep and requires everyone to become informed and participate in the discussions. Like parking meters, school funding, guns and violence, it is vital that we all become educated and then step up and tell elected officials what we want.
Joe Moreno, 1st Ward Alderman, is holding a Water Forum with CAPOW (Citizens Act to Protect Our Water) on Wed. May 12 in the Nazareth Family Center, 1127 N. Oakley from 6:30 p.m. to 8:00 p.m.
Editor's note: Let others hear what you have to say on this subject. Register on this site now, if you have not already. Then you can add comments and items to the Calendar of Events when ever you want. You can also send a letter to this editor.
More information: MickDumke: "Spread the privatization gospel"; "The ongoing case against privatization"
Crime Stats By District
Columnists