Poland's Parliamentary Elections include Chicago candidate and votes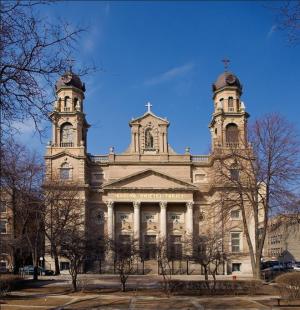 Holy Trinity Polish Church
, 1118 North Noble St,, will be one of eight polling places in Metropolitan Chicago, on Oct. 8, for Poland's Parliamentary election. Votes will be part of the Oct. 9 election results in Poland.
Sylwester Skora, a radio host on WPNA (Polish radio), is on the ballot. "Skora is hoping to repeat the success of Andrzej Czuma, a former Anti-Communist dissident who became a Chicago radio personality after he was forced into exile. He ran for office in Poland from Chicago. Czuma found his way into the Polish Parliament and served for a time as Minister of Justice in 2009," explained Daniel Pogorzelski, author, Portage Park Historical Society and Exec. Dir. of the Greater Avondale Chamber of Commerce.
In the heart of "Polonia" where the "Polish Downtown" was considered to be Ashland, Division and Milwaukee Ave., Holy Trinity Church was founded in 1872 to relieve the over crowding of Chicago's first Polish parish St. Stanislaus Kostka Catholic Church, founded in 1869. While its beginnings included a twenty-year feud with St. Stans, Holy Trinity has become known for political and Hollywood connections.
On the political side, Robert Kennedy and the deceased Polish President Lech Kaczynski were two of the distinguished visitors. Fans of actor Jimmy Stewart will recognize shots of Holy Trinity in "Call Northside 777," in which it "played" a Polish Church.
Not only is the congregation and its connections steeped in the history of the Polish community and the area but its architecture impressive. Architect William Krieg produced the final plans for the original design of the church building by Herman Olszewski. Construction which began in 1905 was completed the following year at the cost of $200,000 It is in on the massive scale of other Polish Catholic churches in the area such as St. Hedwig, St. John Cantius and St. Mary of the Angels.
Related:
Crime Stats By District
Columnists