Lolita Fashion brings Victorian fashion and culture through Wicker Park again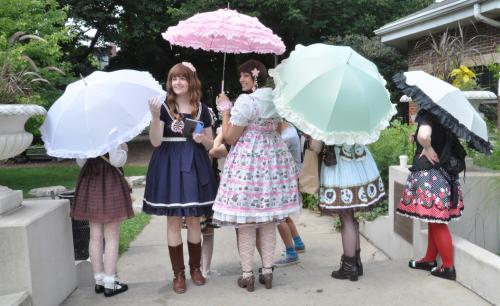 Appearing to have walked off the Wicker Park history book or the pages of a Victorian picture album, members of the Chicago Lolita Fashion group, Chigothloli*, strolled along the sidewalk in Wicker Park on Sat., July 26. Some opened their parasols to shield themselves from the bright noon-time sun as they walked along the path. 
Appropriately drawn to the replica of the original 1894 gargoyle fountain, a perfect location for Victorian girlie girls, they took time to talk about Lolita Fashion, their group and pose along the edges of the gardens for picture taking. 
A subculture of fashion that began in Japan as street fashion, Lolita Fashion has become a world-wide phenomena. Believed to have begun in the late 1970s or 80s, it was based on Victorian fashion with the "cupcake" silhouette as the premier look. 
Some believe that using the term "Lolita" was a statement against exposing more skin. On Wikipedia, it states:
"We certainly do not do this for the attention of men. Frequently, female sexuality is portrayed in a way that is palatable and accessible to men, and anything outside of that is intimidating. Something so unabashedly female is ultimately kind of scary – in fact, I consider it to be pretty confrontational. Dressing this way takes a certain kind of ownership of one's own sexuality that wearing expected or regular things just does not. It doesn't take a lot of moxie to put on a pencil skirt and flats. It's not, as some commentators have suggested, some sort of appeal to men's expectation that women should be childlike, or an attempt to pander to pedophiles. Pedophiles like little girls. They don't like grown women who happen to like dresses with cakes on them. I've never been hit on by a pedophile while in Lolita. We don't get into it because it is some sort of misplaced pedo complex or anything, and the objective isn't simply to emulate little girls, despite the name Lolita
Originally modest in material and creation, the skirt or dress was knee-length and belled out thanks to the determination of petticoats. 
The subculture expanded into different periods and styles from the women's and children's clothes of the day to more elegant flowing creations. Style choices went further back then Victorian (1837 to 1901) to Gothic (1200 to 1450) and Rococo (period of enlightenment beginning in 1600 to 1800). 
The women and some men that are caught up in this journey into the past come from all walks of life. In the group of 6 on Saturday, their professional backgrounds ranged from Wall Street financials to cupcake making and included a professor. Though they were fine about sharing their first names (Jordana, Abby, Nina, Sarah, Eina and Aubree) they wished to not share their last names. 
While the organization in Illinois numbers over 350, their core group is closer to 30 with events drawing about 10 participants. Their affiliation with a 30-member group in Milwaukee often adds to their numbers for their excursions. Their favorite event is high tea (But of course!) they also gather for brunch, pool parties, etc. According to Jordana, they have had as many as 80 fashionistas attending one event. (Can you imagine what a delight that would be to see?!) 
May you enjoy these images from Saturday in the Park with 6 Chigothlolis.
*"gothloli" is a combination of Goth and Lolita
**Historic 1895 picture in Wicker Park appears in "Wicker Park from 1673 Thru 1929 and Walking Tour Guide," Elaine A. Coorens. courtesy of the Chicago Park District
Related:
Crime Stats By District
Columnists