Maria Chudzinski closes down the Polish Air Force's Chicago Wing with an exhibit at the Polish Museum of America
As the final act of the Polish Air Force Veterans Association's Chicago Wing, Maria Chudzinski shuts down the organization with the last showing of their exhibit The Polish Air Force in World War II in the Polish Museum of America, 984 N. Milwaukee Ave. On display until Feb. 24., it will be shipped to the Polish Air Force training school in Deblin, Poland.
Created 20 years ago, "the exhibit does not have the appeal for young people today. To them, it is boring. Only the people who lived through the War (WWII) are interested and they are dying or ill," explained Chudzinski.
"I grew up in Warsaw and was in the Polish underground. I was a student and mainly distributed for the underground press in about 1940--41. I was a partisan against the Germans. We fought in the streets for 63 days."
She ended up in a Prisoner of War (POW) Camp but that did not deter her. When she was released, she got a transport to England. Enlisted in the Royal Air Force, she was among 84 Polish women selected for special duty.
"Whether you were a general or a private, you were in training camp at the lowest level. After 8 weeks you were posted to the regular unit. By then, I had learned enough English so I could work in the office."
She eventually met the man she would marry, also in the air force. He studied at the University in London and she got a diploma in foreign trade. Married in London for a couple of years, they decided to come to Chicago in January 1952.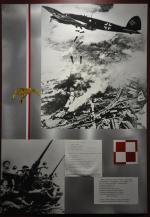 "We walked down LaSalle Street looking for jobs. We were told there were no military or insurance jobs there, that we should go to New York. I met a friend who told me about a woman who wanted someone to work for her. But she didn't want the person educated. She wanted to train her. So, I had to play dumb. She hired me and I worked there in the Law Department at Northwestern University for 45 years," she says with a laugh. Her husband became an auditor for big banks along LaSalle Street.
"Everyone said that we should go to the factories where we would make a lot of money. But we did it our way and we were right. This was a country of opportunity. We could live here well. I like England very much, but I like to go there as a tourist," she concludes with twinkle in her eye.
The exhibit is open daily, except for Thursdays, from 11 a.m. to 4 p.m.
This is also the final show curated by the Museum's Executive Director Jan Lorys. He is leaving the Museum after more than a decade of service.
Related:
Crime Stats By District
Columnists