Historic building hit by thugs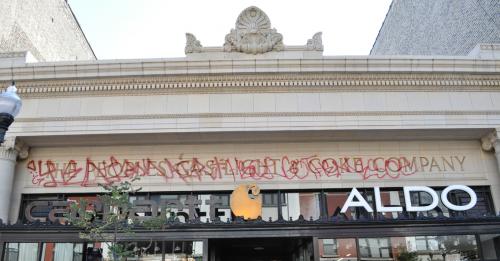 Thugs have decided their scrawl is better suited to the historic 1520 N. Milwaukee Ave. building than the words "The Peoples Light & Coke Company." Imbedded and painted in gold above the upper windows on the building designed in 1921 by Jens J. Meldahl, the inset terracotta tiles are now stained by red scrawl reminiscent in color of other graffiti scrawled along the Wicker Park fountain base.
Spotted this morning by the WPB President David Ginople, the WPB has reached out to the two shops, ALDO and Carhartt. In the interest of helping the retailers, the WPB is letting them know about the possible use of façade rebate funds to remove this destruction.
This reporter contacted 1st Ward Alderman Proco "Joe" Moreno's office requesting that they make sure that the regular graffiti blasting should not be used on this historic façade.
Anyone who saw anything relative to this disgusting criminal act, please contact the alderman's office or the Chicago Police Department's 14th District at 312.744.8290.
Related:
Crime Stats By District
Columnists