St. Boniface celebration drew 800
Designed by architect Henry J. Schlacks, St. Boniface Church, built between 1902 and 1904, at Noble and Chestnut, was not lacking for positive celebrants under its two towers last Saturday, October 15, when hundreds partied in recognition of a bright future and had some took tours of the church's interior. 
Preservation Chicago's Ward Miller and volunteer Cathie Bond produced "the show" that celebrated a new chapter in St. Boniface's history.  
Michael Skoulsky, Stas Development, the new owner of the property, and Bob Zwolinski, who helped bring the forces together that orchestrated the final deal, worked until the early morning hours of Saturday to strip the altar area of paint. Their efforts revealed beautiful slabs of marble on the wall, the altar and a two step high marble base. 
Starting at about noon, across the field from Eckhart Park, approximately 800 people came and went to celebrate and go in the church. It was a sea of people greet each other in the street, enjoying music, refreshments and camaraderie. There were a lot of pats on backs and hugs shared with a myriad of people from far and wide. 
During a brief ceremony Miller mentioned many of the people who stuck with the project for almost two decades and praised those who joined in the fight more currently. Among of the organizations and individuals outside of the Archdiocese of Chicago who got into the fray early were East Village Association's Gladys and Rich Anselmo as well as Jonathan Fine and the Neighbors of St. Boniface with Kevin Stawiarski, Jim Boccarossa, Mike Dotson, Jonathan Kulpit and Kathy Thalmann.
The next decade added such people as architect Michael Vasilko; subsequent property owner Phil Moeller; 26th Ward Alderman Walter Burnett; the City's Eleanor Gorski and Lisa Misher; Landmarks Illinois' Lisa DiChiera; and the Chicago Academy of Music's (CAM) Michael Scott Carter and Rory Dean Smith. 
In the home stretch of the journey came local resident Zwolinski, Miller and Zwolinski's friend and local resident Michael Skoulsky. Skoulsky in turn brought in his attorney Andrew Cunniff, Galarnyk Associates, and then his equity partner, David Ruttenberg, Marc Realty Capital.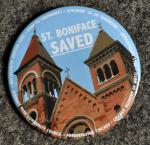 As reported earlier, the deal was miraculously made two minutes before the deadline of 5 p.m. on September 23. The Oct. 15 celebration is expected to be the first in a series of celebrations before the Church redevelopment, CAM's new building is constructed and another condo building is built.
Skoulsky is already moving to the next steps which includes a mural celebrating past and present musical artists, historic and current Chicago and church stories.
Related:
Crime Stats By District
Columnists