Residents got answers about ward redistricting and a peek behind City Hall doors
Intended to be a forum for the why and how of the Chicago redistricted ward map, the Wicker Park Committee's meeting gave neighborhood residents a peek behind City Hall doors that surprised, stunned and/or horrified some and confirmed suspicions of others.
Perhaps one of the larger non-redistricting reveals during the evening was the fact that City Council committees take votes on issues, even substantial topics, without having a quorum.  A current example is a vote on the G-8 rules change. "We vote on critical votes in committee and guess what...there are often just three or four people there. We should have 10 or 12," commented 2nd Ward Alderman Robert Fioretti.
As has been known with such issues as the parking meter vote and now the redistricting map, it is not unusual for matters to be voted on in City Council with very little time between distribution of long documentation (50 plus pages) and the vote. Even City Clerk Susana Mendoza, who served six terms as an Illinois House Representative, recently commented, "I can't believe the way you guys (aldermen) vote on things. You see them and you vote. In Springfield there is a vetting process."
Though most residents knew that the map, voted in on Jan. 20, had been changed in the early hours of that day, it was confirmed that most aldermen had not seen the map prior to the council meeting. They also apparently did not read the ordinance that states that the new boundaries were to go into effect on the acceptance of the ordinance. The ordinance passed by 41 aldermen reads: "SECTION 2. This ordinance shall take effect upon passage and publication." This has not been complied with and there is no date or process set to go from the "old" to the "new" boundaries. Everyone is advising residents to operate under the old boundaries.
Despite the fact that taxpayer dollars paid an undisclosed amount of money for 8 to 9 legal experts to advise on the ward map being safe from legal action, it appears that a lawsuit targeting ward size deviations (6% to 7%) could be a possibility considering that  those numbers are far above deviations in other redistricted areas of governance. Thus legal action appears to be possible. Such a challenge could cost taxpayers another $20 million.
Furthermore, according to Fioretti,  Mayor Rahm Emanuel "...had a lot larger control over what was done on the maps. He was informed all the way through. Both sides were being pushed by him, for what ever reason."
The meeting was begun by Jim Drew, President of the Wicker Park Committee, who turned the floor over to 1st Ward Alderman Proco "Joe" Moreno, Fioretti and Paul Sajovec , standing in for 32nd Ward Alderman Scott Waguespack who just became a dad. Each spoke about their wards, redistricting activities and views on redistricting. Drew then opened the floor to questions. There was representation in the audience from each of the local neighborhoods (Wicker Park, Bucktown, Ukrainian Village, East Village and Pulaski Park) effected by one or more of the three wards.
Summaries by Alderman
Moreno, who is part of the Latino Caucus and one of the 41 aldermen who voted for the map, spoke of his interest in the community in which he has lived for 15 years.  He explained that the remap was required in order to follow the Federal mandates to protect the voting classes of Latinos and African Americans in drawing boundaries. He explained that the 1ast Ward had lost Latino voters and If it was not kept as a Latino ward, a new Latino ward would have to be created. He didn't want to do that so his Ward has in part moved somewhat west.
"I was called into the map room the night before the vote. The 2nd Ward line went right through this Park. I sat there with Aldermen Mell, Burke and O'Connor and said absolutely not I was not going to have that," said Moreno as he was explaining his participation in drawing the map.
In a discussion about calling the vote on the Jan. 20 versus tabling it for the next council meeting or a special meeting, Wicker Park resident Teddy Varndell asked Moreno, "You chose that getting this done was more important than continuing due process and community input. Why was that more important and why did it have to get done that day and why did you turn your back on Alderman Waguespack?"
"I didn't turn my back on anyone.  I had three tenants on what I wanted supported in the map." They were: no change to the ward; maintaining a ward with 40% Latino population; and avoiding a law suit.
Fioretti, who voted against the map, told the group, many of whom will probably be his constituents, about his current 2nd Ward and his involvement in its clean up and development as well as caring for its residents. He pointed out concerns about the loss of population in Chicago in comparison to other cities, excluding Detroit, and shared his views on what is needed here. "We need to increase educational opportunity for kids. We need to create jobs and grow the tax base. And, we need to put more police officers on the streets. We've heard we're hiring more, hiring more but all I see is retirement, retirement, retirement."
Known to drive the streets and alleys of his ward looking for burned out lights, streets in need of repair and calling into 311, he has already driven this part of his new ward. He guaranteed to serve the area well, "You're probably pay8ing some of the highest taxes in the country here and you deserve the best services."
A believer in compact and contiguous wards, his new ward is anything but, including Lincoln Park and Streeterville on the east and snaking over to Wicker Park and Ukrainian Village on the west. "The map is an incumbents map. The mayor had a lot larger control over what was done on the maps ... Burke had a lot to do with it too. Look at his compact and contiguous little ward." Like Waguespack he is working to change the process for redistricting ten years from now.
Sajovec on behalf of Waguespack, who voted no on the map, explained that Waguespack's vote was because a lot of significant changes were made at the last minute that did not get a public eye before they were voted on. "He sees that as unfortunate and would like to see that change. He is looking forward to working with fellow council members to set up a more rigorous and open system to address that kind of concern for the next time around."
"The way things got divided at the last minute made things functionally difficult. Having most of the residential part of Bucktown and not the six corners obviously presents some big challenges when you have complaints about bars and other things going on in your commercial district."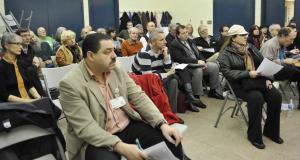 Residents' concerns
Concerned about who to go to regarding city services, area developer and Bucktown resident, Steve Lipe, asked about who to go to about zoning issues when he needs aldermanic sign offs. All of the alderman said to go to function as though under the old boundaries.
Chairman of WPC's Preservation and Development Committee, Ed Tamminga, asked if relative to community zoning concerns the Committee should go to old and new aldermen involved as requested by 25th Ward Alderman Danny Solis. Fioretti said he would listen to the community, work with other aldermen and do what the community wanted. Sajovec, who staffs zoning and development issues (32nd Ward) and we have a pretty thorough process and the idea that we would go through our process and another alderman would go through another process on an individual property and then somehow we would all try to get on the same page seems to the lack of knowledge of how thorough some of the aldermen treat these zoning issues where others may not. I do not think that it is workable indefinitely but in the interim we are going to share information with the aldermen in the new map."
Moreno pointed out that the policies in place for all three wards are not something an alderman must have. They do not have to go to each community group and ask how the feel about an issue  "...and have that agreement that I am going to take that consideration 95% of the time that is not a law. The alderman can obvious act they want."  He went on to point out that though he, Fioretti and Waguespack have open processes many other aldermen do not.
Bob Mantsch, Wicker Park, asked about how an alderman would be voted for in the 2015 elections if the new boundaries were not in effect by then. Answer: 2015 elections will be under the new boundaries. (Editor's note: It should be noted that the upcoming March 20 elections will be under the old boundaries.)
East Village's Neil McKnight expressed concern about the new boundaries. "When business and residential areas are split between wards, you are making each alderman weaker. Not only do you divide the community based on business and residential but you've made representation weaker." His suggestion is to keep them together for a much stronger community and happier constituency.
McKnight also suggested that the remapping occurs later in the aldermanic terms to avoid having  residents with an alderman for three years they were not part of electing.
When recycling is going to come to the rest of the community was a concern of Mary Tamminga and others. The answer turned to the grid system for refuse pickup. Fioretti indicated that he suggested the grid system three years ago and that it is to be implemented soon because that is the only sensible way to hand the task.
Moreno said that there is a test program going on in the 1st Ward where 2 private companies and city crews are competing on efficiency and weight. At this point the city crews are impressively beating the performance of the private companies. Once the choice is made, recycling bins should be
Future remapping
Throughout the meeting points were made about how to draw wards and who should be charged with the task. Probably everyone in the room felt that something should be done to prevent the kind of chaos that is currently happening.
Sparks flew in a discussion in response to Jim Drew's question about criticism of the current redistricting, "Do you believe it is time to move on and rather than having the aldermen choose their boundaries have another independent process like a coalition of people without a vested interest or a vote where community members get to have their voice heard?"
"Iowa draws by computer...I would support that...however there are Latinos and African Americans and probably Asians in 10 years who need to be protected. I know there are not many representing those communities tonight but I am not going to submit to a process that allows for the class that discriminated against those classes to now say we do not need those rules anymore. I'm sorry, I am not comfortable with that and that is not what needs to happen.
"Computers probably can do this but they are not going to be squares that you like. I have a precinct  (Wicker Park Apts) that is Latino surround by non Latinos. I am not going to disenfranchise those Latinos and African American seniors who are there and draw a square. This is a fed law and I don't care if you vote for me or not.
"I'm not going to let my ancestors who came to this country...my grandfather who came here fought in D-day and came back as a non-legal citizen be discriminated against. If a computer can draw these precincts and make them in a square fine, but people don't live in squares, they live in different areas."
Waguespack feels very strongly that the people should pick their aldermen and not the other way around explained Sajovec. A group of alderman bought software to design wards and set it up. Sajovec who set up the wards on the system said, "It is more complicated than it might seem.  Even in the 35 ward concept you are making very difficult choices as to dividing this area because have to get the population variations as low as possible while maintaining the class protection."
"If we are going to open up this city government it is up to you people in this room,"  said Fioretti.
Then he offered up some possibilities for change. "Maybe we (City Council) should have meetings at night, since it is a part time job. Maybe we should have our committee meetings at night so people can voice their concerns. We did public meetings at night so you all could voice your opinions  on redistricting, but then we didn't listen to you in the long run. Maybe we need to change the way city government is done and maybe the 35 ward map is a start."
He went on to say that he thinks that there should be term limits, getting a ripple of laughter from the crowd when he said, "I have seen Ed Burke around for years and years and years."
So what will make change a reality? The community demanding change. It requires voters to speak out now, attend meetings and write letters.
What do you think...enter your comments below!
Related:
Crime Stats By District
Columnists