Eddie Winters sworn in as State of Illinois Representative from the 10th District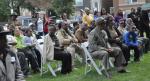 In the middle of the area where he grew up near the United Center, surrounded by family, friends, colleagues and supporters, Eddie Winters was sworn in as the 10th District Representative in the Illinois State House of Representatives, on Sept. 9, in Touhy-Herbert Park, 2106 W. Adams. 
Judge Paul P. Biebel, Jr. who is a presiding Judge of the criminal Division, Circuit Court of Cook County conducted the ceremony as Robert Fioretti, 2nd Ward Alderman, served as witness.
Winters is a Chicago police officer who has twice before unsuccessfully run to be nominated as the Democratic candidate for this position. The recent expulsion of Derrick Smith is what led to Winters' appointment.
With only five months in office, Winters appears to know that he has a lot on his plate and feels that one of the main topics to be addressed downstate is pension reform. However, he first plans to meet his various constituents and learn their needs then go to Springfield and find out the issues to bring back to his area.
Related:
Crime Stats By District
Columnists