CGNA meeting focused on Cleo's proposed late night liquor license
The bar known as Cleo's at 1935 W. Chicago Ave. is looking to "grow," Scott Floersheimer, the bar manager and partner-owner, told the attendees at the Chicago Grand Neighbors Association (CGNA) Tuesday evening meeting in OutPut, 1758 W Grand Ave.
He and 1st Ward Alderman Proco "Joe" Moreno addressed late night liquor licensing and Cleo's request for one. 
Cleo's is located at 1935 W. Chicago, a building that they lease along with 1937 W. Chicago. Recently they purchased the 1939 W. Chicago Ave. property. 
For the 1935 location, they are working toward obtaining a late night (4 a.m.) liquor license, which allows the sale of liquor until 4 a.m. during the week and until 5 a.m. on Sunday morning. (Their current liquor license allows the sale of liquor until 2 a.m. and until 3 a.m. on Sunday morning.) With an occupancy of 119 at 1935 plus the patio, currently they have three licenses which are up for renewal on Nov. 15, 2016. They are: Outdoor Patio, Retail Food Establishment and  Consumption on Premises -- Incidental Activity. 
The Incidental license means that their primary business is food. While many believe that the way to know what sales percentage is in liquor versus food, some say that is not correct. One other belief is that evaluation is done by reviewing such things as what items the business purchases such as lettuce or beef, what equipment they use and how often and what their advertising says.
We have been unable to get this clarified by the Department of Business Affairs and Consumer Protection.  
Floersheimer, who was born in New York, came to Chicago in 1988 and is a Wicker Park resident. He and other investors form the partnership that also owns Jack and Gingers, 2048 W Armitage Ave., in Bucktown. Their interest in the late night hours at Cleo's is to have a new audience and increase business, he explained to this reporter. 
Physical site
Will they be expanding the business from 1935 and 37 to their newly purchased 1939? Floersheimer indicates that they are not sure what they will do with the 1939 property. If they decided to include it in the existing business or as another business, it would be a different licensing process, as the license is for a different address.  
Requirements for obtaining a Late Night license
An Exterior Safety Plan must be in place. That is to:
address the quality of life for residents in the surrounding neighborhood
provide patrons with a safe environment when exiting and entering the establishment
reduce the need for police resources 
Those points are to be achieved by
implementing preventative measures designed to reduce excessive noise from patrons entering and leaving the establishment
Preventing loitering, littering, fighting and other criminal activity
control departing crowds and traffic flow
Other requirements

Installation of surveillance cameras at entrances and exits used by the public recording from 1:00 am to 6:00 am. Recordings are required to be maintained for 72 hours
Installation of adequate exterior lighting
Adequately trained security personnel 
Process for obtaining a Late Night license
In order to obtain the 4 a.m. license, Cleo's must obtain signatures from at least 50% of the registered voters plus one within 500 feet of the bar. 
Where is Floersheimer in the process?
According to Floersheimer, they were given the list of registered voters from the Liquor Commissioner's office. They then went door to door to obtain signatures. They found that not everyone on the list still lived at the addresses. Therefore, he said, that the number of signatures required will be less than the count on the original list. They must work off the list given them and not add to it. They got signatures for considerably more than half plus one of those still living at the addresses on the list, said Floersheimer. 
Those signatures have been submitted to the City for verification. 
Unlike the other licenses, there is not a time restriction on the Liquor Commissioner for reviewing Late Night licenses, explained Raymond Valadez, Chief of Staff to Alderman Moreno.
Once the Liquor Commissioner reviews the request, taking into consideration the establishment's history of incidents along with input from the 12th District Police Commander, Edward Kulbida and community, the Alderman will determine if he will or will not support the application, said Valadez. 
Support and objections
Stating that he has been asked about 50 times to support a 4 a.m. license in the 1st Ward, Moreno said that he has granted only one (Shambles, 2050 W. Division) and that he has not decided whether or not to support Cleo's. 
According to the Chicago's Data Portal, there are 164 late night licenses in Chicago with Grand Bar at Grand and Ashland as well as Continental Lounge at 2801 W. Chicago being the closest to Cleo's. 
Neighbors and other community voices are mixed in their view of this request. At the CGNA meeting, in an attendance of about 35, only three people lived within the 500 foot radius.
It is reported that most people at the meeting listened to the discussion but "were rather quiet." Several people have described the front of the property looking "tacky" with large banners strung across 1937. 
A few expressed noise complaints. They were about noise which centered around viewings of sporting events. Cleo's is well known among soccer fans as a place to enjoy those games with fellow enthusiasts. 
Freedom of Information Act (FOIA) requests showed only one incident of serving a minor in 2011, for which they were fined $1,000. The only other item was in 2006 and it was a compliance complaint but no fine was levied on the former Cleo's owners.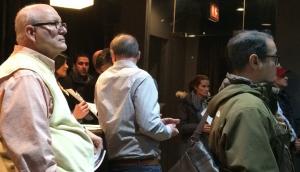 One person at the meeting indicated that she was aware of an incident where two people were over served. They went outside and the man hit the woman. She was injured and went the hospital. The person recalling the event did not believe that the bar reported the incident to the police. Floersheimer claimed no knowledge of the incident and identified the person complaining as a former employee who had been let go. 
When asked how the community will benefit from this late night license, Floersheimer said that:
It will create jobs, since Cleo's staff will nearly double by adding another shift
It will create more tax dollars
It will add another late-night dining option to the neighborhood, aside from fast food
More development will fill vacancies on Chicago Ave. 
Primary neighbor concerns seem to revolve around the idea that it would become more a bar than a restaurant during the late night hours. Specifically their points included concerns about: security safety, parking and noise. (Those points are part of an Exterior Safety Plan described above.)
Floersheimer says that he believes that 50% of his late night customers will be "industry people" (people arriving at Cleo's from other establishments after their businesses close).
Lyn Wolfson, CGNA President, said that many people felt more comfortable about granting the license after Moreno pointed out that a Plan of Operation could address some of their concerns. 
Example: if the neighbors are concerned about the location focusing on drinking versus food, the Plan could address that, requiring them to offer, for example, 80% of their regular menu. 
Disappointed that more people from with the 500 foot radius did not attend the meeting or communicate their opinions, Wolfson was pleased that so many braved the cold weather to attend.
In addition to the discussion, six people left a comment on a signup sheet and to date another three contacted her post meeting. 
Information about Cleo's request has been distributed by CGNA and the East Village Association (EVA). Board Members of both organizations have also gotten together to discuss it. 
Comments may still be sent to CGNA, EVA, Alderman Moreno, Liquor Control Commissioner Greg Steadman and 12th District Chicago Police Sergeant Rebecca Arguelles, who reviews liquor applications. She may be reached via e-mail or phone 312.746.8306. 
In answer to a question about how an establishment could lose the Late Night license, Valadez said that the process is the same for all their licensing...the Deleterious Impact process. Examples of that were Grand Bar, Congress Theatre and Carey Weiman's establishment on Elston which has operated under the names Prop House, Krush and Koncrete.
Related:
Crime Stats By District
Columnists